22 November 2007 Edition
Sinn Féin will not be deflected by latest threats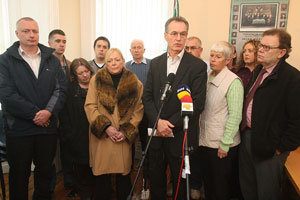 Newtownabbey Sinn Féin councillor Briege Meehan who recently suffered the loss of her husband Martin Meehan, was one of 11 republicans to receive a death threat from the previously unheard of Irish Republican Liberation Army.
This is the sixth time that Meehan has been threatened by these micro groups since the week before her husband died suddenly on November 3 2007. Indeed on the day before Martin died the Meehan family was warned that a bomb had been planted at their Ardoyne home.
Martin Meehan's son, also called Martin, was named on the death list  as were a number of other long time republican activists including Paddy Mulvenna and his son Patrick, Seán Mag Uidhir, Gráinne Maskey, Chrissie Huddleston, Mary Doyle and Gerry McCabe.
The threats, which were issued towards the end of last week, warned all of the Sinn Féin councillors from across Belfast who have been nominated by the party to sit on District Policing Partnership Boards, that they would be killed.
Speaking at a press conference on Friday 16 November Sinn Féin's Gerry Kelly criticised the gang behind the threats.
Kelly also revealed that the gang had phoned a warning, threatening all Sinn Féin members, to the Belfast morning newspaper The Irish News earlier that morning.
"I have to say those behind these threats need to reflect long and hard on their position", said Kelly.
"They have taken their place in a long line of people including the British State and their surrogate loyalist gangs in threatening and targeting republicans and nationalists. These threats and campaigns of violence against our party failed to stop us representing the people who elect us and they will continue to fail.
"Sinn Féin members who sit on DPPs are actively promoting and seeking proper policing for their local areas."