22 November 2007 Edition
PSNI fail to protect families under sectarian attack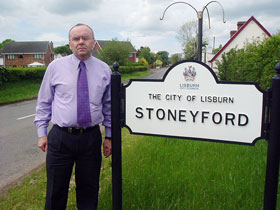 A Catholic family living in Stoneyford Village, County Antrim was attacked by loyalists just hours after a Sinn Féin delegation called on the PSNI to protect Catholics in the area.
The attack was carried out at 1.30am on Saturday morning when part of a car engine was thrown through the window of the house in the village.
Less than 24 hours prior to the attack a Sinn Fein delegation including Assembly members Paul Butler, Jennifer McCann Lisburn councilor Sam Baker and party activist Jim Gibney met the PSNI over an ongoing campaign of intimidation against Catholics in the Stoneyford area.
Among the PSNI members present at the meeting were Assistant Chief Constable Duncan McCausland and District Commander Paula Hilman. The meeting was held in Castlereagh PSNI barracks.
Butler presented the PSNI with a dossier of information detailing incidents of intimidation against Catholics. He also challenged the PSNI over the fact that no loyalists had ever been arrested, questioned or charged in relation to the sectarian campaign being waged in Stoneyford and it's surrounding areas.
The Sinn Féin assembly member claimed that the well known loyalist behind the attacks is being protected by the PSNI, a claim the PSNI denied.
Speaking to An Phoblacht Butler said, "I asked for this meeting because there is an ongoing campaign of intimidation against Catholics by a group of loyalists in  Stoneyford village.
"I gave the PSNI officers a dossier of attacks against nationalists in the Stoneyford area.
"Sinn Fein are keen to co-operate with the PSNI to ensure nationalists in the village are protected.
"We intend assisting the PSNI to provide effective policing in the village.
"As a result of today's meeting the PSNI will locate a mobile station in the village from next week, I welcome this move.
"Over the coming months I will be supporting other local PSNI initiatives such as the Neighbourhood Watch scheme.
"The nationalist population of Stoneyford need reassurance that they can live free from sectarian intimidation.
"The PSNI gave an undertaking that they would not tolerate people breaking the law.
"I am encouraging the people of the village to give their assistance to the PSNI as they roll out their policing plan."