15 November 2007 Edition
Arrest and assault of Tom Murphy raise serious questions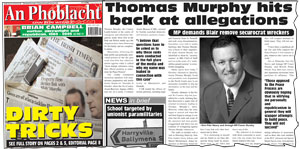 AFTER darkness had fallen on Wednesday night, 7 November, Tom Murphy was on his way home from a GAA match in Dundalk. He was with his brother and his sister-in-law. Their car was forcibly stopped on a country road by a Northern-registered jeep.
Unidentified armed men smashed the driver's window, injuring Tom's brother. His wife believed that her husband had been shot and she was in fear of her life. Both Tom and his brother were dragged from the car and forcibly thrown onto the road. It was only at that stage the armed men identified themselves as members of the Garda Emergency Response Unit.
Tom Murphy was arrested and taken to Drogheda Garda station. Television coverage of Murphy's subsequent court appearance in Ardee showed his face bruised and a cut under his eye. These injuries were caused by the impact of being forcibly dragged from the car by gardaí. When he was brought into Drogheda Garda station, the duty officer insisted that Tom Murphy be seen by a doctor. He was brought to hospital where the doctor was adamant that he should remain under observation in hospital overnight. That doctor insisted that Tom Murphy have it noted that he was signing himself out against medical advice.
Solicitors acting on behalf of Tom Murphy, his brother and his sister-in-law have made complaints about the nature of this arrest operation.
Tom Murphy's appearance at Ardee District Court on Thursday, 8 November, to face charges relating to tax returns was accompanied by a media circus. It was clear that this had nothing to do with someone being brought before the court on allegations relating to unpaid tax and everything to do with trying to suggest that something sinister was afoot.
Sinn Féin has said that the nature of the arrest of Tom Murphy, his treatment at the hands of gardaí and the manner in which the media has covered the issue has raised serious questions. The Sinn Féin TD for Louth, Arthur Morgan, said:
"Of course, the Criminal Assets Bureau and the Garda have to do their jobs and we support them in this. Nobody is above the law. But, equally, the use of the law to attempt to vilify an individual is just as wrong."
This is not the first time that Tom Murphy has been the target of black propaganda. Exactly two years ago, the Louth republican found himself at the centre of outrageous and unfounded allegations made about him in the Irish and British media. These were proven to be totally without foundation.
In October 2005, selected media outlets were given advance notice of a high-profile, politically-motivated operation by the Six-County Assets Recovery Agency (ARA) and the 26-County Criminal Assets Bureau (CAB). CAB raided domestic and business premises in Manchester and Dundalk, including legal and financial firms, and took away documentation. Journalists were told in media briefings that Tom Murphy was a focus of their inquiries. Some journalists reported unquestionably  and without verification that Tom Murphy was identified to them by 'security sources' as the IRA Chief of Staff and that he was at the centre of a 'multi-million-pound exercise' in cross-border smuggling.
Security elements in the Six Counties and the 26 Counties drip-fed journalists for a week, alleging they had discovered a paper trail of criminal investments leading to Tom Murphy's door. But within days the story unravelled and when the real facts emerged it was clear that there was no evidence of wrongdoing against Thomas Murphy whatsoever.
The 2005 raids coincided with a visit to Downing Street by Sinn Féin leaders Gerry Adams and Martin McGuinness. Gerry Adams said there was an obvious political agenda at work.
At the time, in a statement issued through his solicitor, Tom Murphy said it was distressing to himself and his family to see false allegations being made by anonymous staff in the ARA and repeated as fact in the media. He stated categorically that all these allegations were totally untrue.
He said questions had to be asked as to why the raids were conducted in the full glare of the media and why his name was leaked in connection with this case. His name did not appear on any ARA statement and he wanted to know why his name had been falsely linked to the case.
"I do not own any property and in fact had to sell my own home some years ago to cover legal fees following an unsuccessful libel case. Despite losing this case I take an attack on my reputation very seriously.
"The farm depicted in the media is not in fact my home and I do not live at that address. I make a living from farming.
"Those opposed to the peace process are obviously hoping that, in vilifying me personally and republicanism in general, they will scupper attempts to build peace. They will not succeed.
"I have been a republican all my life and fully support the peace process. I will continue to play whatever role I can to see it work."
This week, speaking to An Phoblacht following his high-profile arrest and court appearance, Tom Murphy said:
"Anyone who knows me will tell you I lead a very ordinary life. I have good friends and family and keep to myself.  I had to sell my own home some years ago following a court case.  The farm which was shown on the television is my parents' home place and is owned by another member of my family.
"I don't blame any man or woman for doing their job and I fully accept that CAB and the gardaí have a job to do. But what happened on Wednesday night was completely over the top and obviously I'm concerned at the motivation behind it.
"If the gardaí or anyone else had wanted to talk to me on Wednesday, I was about all day. They obviously knew that.
"I have absolutely nothing to hide."