15 November 2007 Edition
Dáil Committee accepts Sinn Féin Job Creation 'field trip' proposal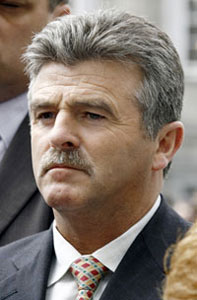 The Dáil's Enterprise, Trade and Employment Committee has agreed to a proposal by Sinn Féin TD Arthur Morgan that the committee visit two of the state's worst economic blackspots, East Cork and West Waterford.
Welcoming the development Arthur Morgan said:
"At the first meeting of the Committee a fortnight ago I proposed the trip so that the committee could initiate an investigation into what needs to be done to create new jobs in regional towns which have been hit by a recent spate of job losses.
"As we enter into an economic slowdown it is vitally important that this Committee take a robust and action orientated approach to its remit. Getting out of the Dáil and into communities worst affected by job losses is a positive start to our job of work.
"In recent weeks we have had the announcement that Amgen has postponed indefinitely its plans to establish a plant at Carrigtwohill, and the news that 470 jobs are to be cut at Waterford Crystal. These are just the latest in a litany of job losses for the region.
"We intend also to meet with trade unions, chambers of commerce and local representatives of the IDA and Enterprise Ireland.
"I also proposed at the same meeting that SIPTU be invited to address the Committee on its current campaign on Agency Workers, again the committee have agreed to my request.
"I believe central to the work of the Enterprise, Trade & Employment Committee is its investigation into the many issues surrounding such job losses, particularly in the manufacturing and construction sectors. Our work will enable us to make informed recommendations to government which we can in turn follow up and hold the government to account in the Dáil chamber."