15 November 2007 Edition
Matt Treacy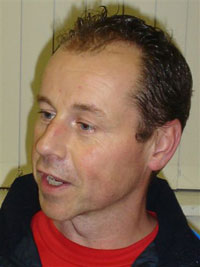 What would Norman Mailer have made of the GPA strike?
WELL, it seems that Dessie 'The Red' Farrell, the scourge of linesmen, and, who knows, perhaps inspired by the 90th anniversary of the 'Great Proletarian Revolution of the Glorious Soviet Union', has decided that the time for talking has passed.
The Gaelic Players' Association has balloted to strike after Christmas if the grants issue is not resolved. If it does, then the FBD Connacht League – as well as the McGrath, McKenna and O'Byrne cups – will be affected. However, they will still go ahead and Mickey Harte has already indicated that he will be fielding a Tyrone side. No doubt other counties will do the same.
It is somewhat ironic indeed that the first competitions to be affected by the proposed action, if it takes place, will be those in which the proceeds go towards the injured players' fund.
But maybe the GPA is not attuned to irony. Nor it seems have they grasped the logic of a strike. It is usually to inflict some damage on the party that is causing one grief or which is withholding or denying something – in this case, money.
Except in this case the body that is being attacked is not the same one inflicting the harm. It will be the GAA that will suffer, but it is in fact Fianna Fáil in government that is holding up the process of paying the grants. Of course, the GPA probably realise this but felt that they had to do something anyway, hence the strike.


Except that the Government couldn't care less about the strike. For most of them, the GAA is just another provider of events and free publicity on big match days. The Greens probably want to ban it. And one minister who was interviewed about the matter last Sunday could hardly conceal his glee. The minister in question was Conor Lenihan, well-known Shamrock Rovers advocate and enemy of Thomas Davis GAA Club, Tallaght residents for 120 years.
Besides, there is no way that the GPA can exert pressure on the Government. So really it has no alternative – if it badly feels it needs to do something and clearly it does – than to bite off its nose to spite its face, as it were.
The simple facts of the matter are this. The Government promised to make the money for the grant available. It didn't. Instead it suggested that the GAA pay it out of structural funds that are earmarked for pitches and other facilities. The GAA rightly said, 'No way.' Dessie Farrell then suggested the Sports Council as an alternative. The GAA said, 'Fine.' Not a budge from the Government. But all of a sudden the GAA is to blame for the whole thing.
And the GAA is now being portrayed as if it is some sort of multinational paying right-wing paramilitaries to murder shop stewards. Of course, that suits the enemies of the GAA who are only too happy to jump on this bandwagon even if they have to pretend that they really admire "goys like Farrell, don't you know", even if they do engage in such barbaric pursuits like stick fighting and bogball.
It also appeals to a naïve sense of justice. "Oh, but aren't the GAA making loads of money out of it and sure shouldn't the players get some of that too?" The impression being, of course, that there is some layer of vastly wealthy aristocrats living in luxury at the expense of the chaps who risk their lives on the playing field. One GPA stalwart even compared unfavourably the plight of inter-county players to someone making money selling burgers outside of Croke Park. Lamb of Jaysus!
Clearly, players ought not be out of pocket for playing for their county. And, yes, they do have a point about managers and trainers being paid, even at club level. And the way to resolve that is to ensure that expenses are adequate and maybe there's even a grant of the sort that other amateur athletes receive to provide some cushion for them as they prepare for events.
The fear, however, is that the whole thing is paving the way for players being paid to play. Indeed, already written into the proposed scheme is a differential between, say, a Wicklow hurler and a Dublin footballer based on how long their season lasts. Is Leighton Glynn any less committed than Alan Brogan?


The underlying ethos appears to be – and it has permeated everything in this country – that only buck eejits do anything that does not turn a bob. Well there must be a lot of buck eejits. It has been said before but it is worth repeating: if it were not for the men and women who devote hours and hours of their time to clubs like Raheny and Dr Croke's there would be no Whelo and no Gooch.
What those people put into the GAA and into their communities is incalculable. If they demanded money there would not be enough to pay them. What they do get is the immeasurable satisfaction of seeing a club player representing them in the county jersey. And for players, being handed that jersey is the highest honour imaginable, far beyond the dreams of most of us.
That may sound very quaint and old fashioned. Perhaps it is. But in an era when this country's traditions and identity seem to be things that can be bargained away if it suits certain people's balance sheets then maybe it is as well to hold on to as much of it as we can before it is taken away. Once gone it can never be retrieved.


I wonder what Norman Mailer would have made of it all? He died last Saturday, leaving a massive body of work among which was perhaps the best book ever written about boxing: The Fight, which he wrote when in Zaire to cover the Ali/Foreman world heavyweight decider in 1974.
A great writer and a great man who was prone to engage in fisticuffs himself with his literary rivals and people who slagged his dog! Sure, you'd have had to like him.