15 November 2007 Edition
The Mary Nelis Column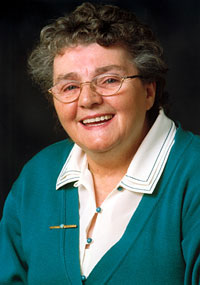 Is Lord Laird of Artigarvan 'withholding information'?
DO YOU remember the days when 'beating the terrorists', the methods used by the RUC to extract confessions from suspects, was exposed by the investigations of Amnesty International and other human rights organisations?  Do you remember that if the torture and ill-treatment of suspects failed to produce the desired result, there was always emergency legislation to put those the police wanted to take out of circulation behind bars?
It worked, and for years "withholding information" charges sent hundreds of republicans, young and old, to the North's prisons.
Such legislation is still on the statute books to be used by the state if necessary. It was never designed to be used against 'noble lords', those individuals put out to grass when they are no longer of use to the British  crown and wheeled out occasionally by the intelligence services to undermine the prospects of peace and political stability on this island. Witness the drama in Britain's upper house this week when the snores and slumbers of its Rip Van Winkle inhabitants were awakened by the buffoonery of one Lord Laird of Artigarvan, laying out information, under parliamentary privilege, on the tragic killing of a young South Armagh man.
Laird – the man who took his kilt to Dublin in taxis, costing ratepayers thousand of pounds – provided the media and the slumbering tenants of the British House of Lords with several names of alleged perpetrators. It was not the first time that Laird has named people under privilege. He pointed the same finger at Phil Flynn, Bertie Ahern, Thomas Murphy and the Bank of Scotland. When challenged by Flynn to repeat such allegations outside the British House of Lords, Laird had a fit of tartan-induced amnesia.
He is not the only one engaged in the dirty business of providing 'information'. In a not so remarkably co-ordinated move, Laird was joined by several SDLP politicians and the intelligence services' mouthpiece, the self-styled Independent Monitoring Commission, as well as that doyen of Love Ulster and photo opportunities, Willie Frazer, who claims to have provided Laird with information on the killing of Paul Quinn and which he claims he received "from known republicans and South Armagh's nationalist community".
One can speculate that the graphic details as revealed by Laird could only have come from those present at the scene but, leaving that aside, do those making such spurious allegations – and those in the media who almost gleefully print them in the knowledge that, if it's republicans, sure anything goes – ever stop to consider the pain endured by families who read and hear such lurid details?
Aside from the political opportunism evident in those rushing into print and naming names under privilege of an antiquated British law, one can also speculate how such people appear to have more information about the incident than the PSNI and the Garda and why they have not been charged with "withholding information".