15 November 2007 Edition
Oncologist dropped by RTÉ talks to An Phoblacht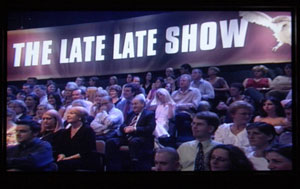 What we didn't see on The Late, Late Show
By Mícheál MacDonncha

PROFESSOR John Crown is one of Ireland's leading cancer specialists. This week he has been at the eye of a media and political storm after he was dropped from the panel of last Friday night's Late Late Show on RTÉ. He disputes the version of events presented by RTÉ. The station's managing director of television, Noel Curran, said it was not his decision to drop Crown but he had instructed the programme's editor to "change the panel and balance the item". It was Crown, an oncologist at Dublin's St Vincent's Hospital, who was dropped.
On Tuesday, The Irish Times revealed that Health Minister Mary Harney had complained to an RTÉ executive last week, before she went on the Six One News, about how often John Crown had appeared on the station. It is surely no coincidence that John Crown is a scathing critic of the Government's health policies.
When John Crown spoke to An Phoblacht this week he was anxious not to concentrate on his recent unpleasant experience but to focus on what is, for many, the nightmare of our health service. I asked him what he regarded as the biggest single deficiency in the system. He replied without hesitation:
"The single biggest deficiency is inequity. It is deliberately engineered. We have a two-tier system because the people running it want a two-tier system. The number of people availing of the public system will decline. The number of people going private is betting bigger."
Crown identifies the malign role of the Progressive Democrats in determining health policy. He says they regard the public system as "a necessary evil" and they "would like to encourage everyone to have private insurance not social insurance". (I was reminded of two Mary Harney statements. In 2004 she said she believed in "a minimalist role for the State in all our lives, including health care" and the following year she said the fact that "more and more people are getting private health care is a good thing. It's a sign of increasing disposable income.")
As a result of the downgrading of the public system, John Crown says people are "being squeezed out of it like pips".
John Crown readily acknowledges that there has been justifiable criticism of the role of many consultants. "Consultants' misbehaviour causes a lot of problems in the health services," he says, but he does not see them as the real obstacles to creating a fairer system.
"Lots of consultants are fat cats – I'm a fat cat," he states candidly. But he points out that the main reason for this is the shortage of specialists of all types in this country. Writing in The Irish Times on Saturday last, Crown stated that the shortage "leads to crushing workloads, rushed consultations and high incomes".
He says consultants are being presented as barriers to changes which the Government is not actually trying to make. In other words, the Government's policies – and especially the new contracts for hospital consultants – are not about creating an equitable system because they actually preserve the two-tier public-private structure. He describes this as "deeply offensive".
"The current reform will entrench division and lessen the quality of the public system," he says.
John Crown saw more than 180 cancer patients in a two-day period last week, half of them private. This also is a result of the shortage of specialists and leads to what he calls the "wholly inappropriate delegation of responsibility to trainee doctors".
"We need to stop thinking of people as public and private," he argues and outlines his vision for a single-tier health system. He cites the universal systems in Germany, Austria, Switzerland and Canada. In these countries, healthcare is equally accessible to all based on need and funded through social insurance which is paid by all income-earners according to means and which the state covers for those on low income or the unemployed and welfare dependent.
John Crown is critical of the way in which the National Health Service in Britain and the Six Counties is funded and managed. He says that it leads to inefficiencies and long waiting lists. Many would say that this need not be the case in a state-provided health system, funded from general taxation, as preferred by Sinn Féin. However, the key issue is equality of access and the ending of the two-tier system.
Crown concludes:
"We need to build an alliance for a single-tier health service."
It's a pity we didn't see it on the Late Late Show.