25 October 2007 Edition
Adams in US fundraising tour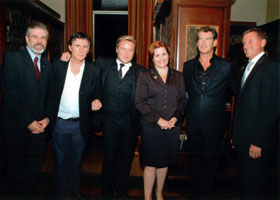 Sinn Féin President Gerry Adams has just returned from an extensive nine day fund raising tour of the United States. The Sinn Féin leader spoke at fund raising events in Philadelphia, New York and Boston.
Gerry Adams also held two books signing sessions in New York and Boston and did a number of interviews to promote his new book An Irish Eye, which has just been published in Ireland and Britain and covers the tumultuous events of 2004-2007.
At the start of the visit Adams attended the annual awards event held by the New York Irish Arts Center. His friend and long time Friends of Sinn Féin stalwart Joseph Smyth was among those given the Spirit of Ireland award. The other honourees included actor Pierce Brosnan, Christine Quinn, speaker of the New York Council, and dancer/entrepreneur Michael Flatley.
During his visit Gerry Adams also met with representatives of the Irish Lobby for Immigration Reform (ILIR). The ILIR are working hard to find a satisfactory resolution to the concerns of tens of thousands of undocumented Irish working and living in the USA.
The Sinn Féin leader met Niall O'Dowd and Ciaran Staunton who together lead the ILIR. He was briefed by them about the current efforts to persuade the US government to reform its immigration laws. Mr. Adams also met with Malachi McAllister, an Irish republican refugee in the US who is threatened with deportation.
New York Senator Charles Schumer attended the annual Friends of Sinn Féin fundraising dinner in the Sheraton Ballroom in New York.
The Senator who has been a long-standing supporter of the Irish Peace Process and of immigration reform expressed his support for the thousands of undocumented Irish.
Speaking about the issue of the undocumented Irish Gerry Adams said:
"The plight of the thousands of Irish undocumented working and living in USA is a priority for Sinn Féin.
"We will continue to raise this issue at every political and governmental level open to us."
Martin McGuinness and Gerry Adams both addressed the New York dinner which was hosted by Fionnuala Flanagan. Both thanked Irish America for its steadfast support.
Gerry Adams however reminded his audience that while enormous progress has been made in recent months the goal of Irish unity and independence has still to be achieved and that work continues.