25 October 2007 Edition
Thomas Ashe 90th anniversary : Republican core values remain the same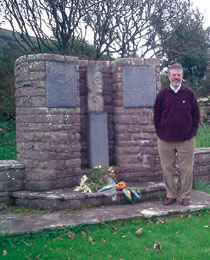 It's time for an 'Alliance for Change'
SINN FÉIN President Gerry Adams, in Kerry last Friday for a series of events, addressed a commemoration in Dún Chaoin in the Corca Dhuibhne Gaeltacht to mark the 90th anniversary of the death on hunger strike of Thomas Ashe.
The commemoration, chaired by Kerry Sinn Féin County Councillor Toiréasa Ferris, was also addressed by Feargal Mac Amhlaoibh of Todhchaí na Gaeltachta.
Addressing those gathered in Ionad Bhlascaoid Mhóir, Adams said the new Irish Government has shown no appetite for confronting the challenges facing people across the country.
The Sinn Féin president said that Thomas Ashe, an Irish-language activist, teacher, trade unionist and Fenian, was hugely influenced by the great deprivations and injustices he saw in rural Ireland and the abject poverty that he witnessed in Dublin.
"In 1913, he supported the Dublin workers during the lockout and was present at the founding of the Irish Volunteers.  He was one of a small number of leaders to survive the Rising. Following his death on hunger strike, his funeral became a mass demonstration of opposition to British rule. Thousands of trade unionists, representing every craft in Ireland, participated. They were led by the Citizen Army. A year later, Sinn Féin won the 1918 general election and the ground was laid for the events of the following years."
Adams said that, today, Ireland is obviously a different place from when Ashe and the other leaders of the Rising assembled on that Easter Monday and that it is a different place also from when Bobby Sands and his comrades died on hunger strike 26 years ago. "But our core values and objectives remain – a genuine all-Ireland republic," he said.
Adams said that the Peace Process has shown that a better republic, more equal and fair, is possible and people can "roll back decades of political failure and build a new Ireland".
And this is a real prospect, the MP for West Belfast said.
"The resources exist to build this republic. It is not a pipe dream. The template is there in the Proclamation and in the thoughts and words and ideals of people like Thomas Ashe. What is needed is political will and vision and it's that which is missing."
Adams said the new Dublin government has come back into office complacent and arrogant. It has shown no appetite for taking on the challenges facing ordinary people across the country. It is these people who are now bearing the brunt of government incompetence.
"You only have to look at what is going on right across Munster.  There have been serious job losses in many communities, from Youghal to Tralee, which now has one of the highest unemployment rates in the state at almost 15 per cent.  The rate across the state is 4.5 per cent."
There had been no proper response from the Government, he said, no new strategy to attract investment, no meaningful regional development strategy. He said the Government had no coherent strategy for rural regeneration and that "in a reckless move" this week the government took  €10 million from the budget for information and communications technology which would "impact directly on broadband roll-out and further hinder job creation".
He said that the Government's handling of the Shannon-Heathrow link had also been disastrous.
"They have overseen the privatisation of Aer Lingus and handed over the region's strategic air links to private interests. And this week Noel Dempsey, the minister who is supposed to be in charge, tells us that he didn't even know what the board of Aer Lingus was up to in relation to Shannon. Nobody in government knew what was going on!"
He said that the Government needs to be challenged and held to account.  There were people the length and breadth of the country campaigning every day of the week for the maintenance of essential hospital services, for decent roads and public transport, for a school place for their children, "for a job with a proper wage".
"One thing is certain," the Sinn Féin president said. "The time has come for an alliance for change.  If campaign groups begin working together and collectively use their power, they can make the Government listen – they can bring about change."
"Bhí Sinn Féin lárnach sna hathraithe sin agus chuidigh muid iad a thabairt isteach. Ach níor athraigh na príomh chuspóirí agus aisling s'againn.
"Tá Sinn Féin sa tóir ar phoblacht naisiúnta. Poblacht 's é sin córas rialtais ina mbíonn an phobal saor, comhionnán agus neamhspleach, saoránaigh nach nglacann le aicme béag polaitiúl. Poblacht ina mbíonn na saoránaigh sásta éisteacht le barúlacha éagsúla agus creidiúintí eagsúla", arsa Adams.
"Caithfidh go mbeidh an phoblacht atá de dhíth orainn, ábalta séirbhísí agus cosaint den chéad ghrád a thabhairt dár saoránaigh uilig. Cuireann seo séirbhísí poiblí den chéad ghrád san áireamh.
"Bheadh an oiread is mó dílárnachas cumhachta de dhíth sa phoblacht nua s'againn. Caithfidh muid cinntiú go mbíonn forbairt eacnámaíochta ag dul ar aghaidh ar bhonn atá inglactha don timpeallacht.
"Bheadh cultúr chomh-ionannais sa phoblacht nua. Bheadh sé mar príoracht againn na páistí a mhuirniú. Ba chóir go mbeadh fáil ag gach páiste ar oideachas den chéad céim agus tacaithe eile le cur le forbairt s'acu. É bheith mar ceart acú.
"Ba chóir go mbeidh sean-saoránaigh spreagtha le bheith páirteach sa chomhphobal agus go mbeidh na comhphobail sin maoinithe le cinntiú nach maireann siad ina n-aonair.
"Tá an rialtas i ndiaidh teacht ar ais i gcumhacht agus tá said bogásach agus sotálach. Níor thaispean said an toil chun dushláin gnáthdaoine ar fud na tíre a throid. Is iad na daoine seo anois atá ag fulaingt mar gheall ar meáncoga an rialtais
Tá mé cinnte de rud amháin, tá sé thar am go raibh comhghuallaíocht le haghaidh athrú againn. Mar is féidir le grúpaí teacht le chéile agus comhoibriú le chéile - is féidir leo déanamh cinnte go bhfuil an rialtas ag éisteacht leo, is féidir leo athrú a thabhairt isteach. Ba chóir saol agus bás Tomás Ághas bheith mar iospráid do gach duine," arsa Gerry Adams.