25 October 2007 Edition
Progress welcomed on scrapping water charges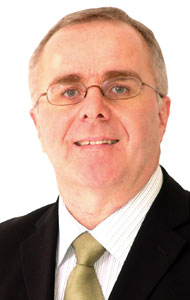 SINN FÉIN Regional Development spokesperson, Foyle MLA Raymond McCartney has welcomed the commitment of the Six County Executive not to introduce the separate water charge proposed by British direct rule ministers.
"People asked for a fair deal and a root and branch review of the direct rule proposals," Raymond McCartney said. "Conor Murphy proposed this fundamental review along with the Executive and I think that, when everyone looks past the politicking, they will welcome it."
The Report recommends scrapping British Government plans for water charges. Sinn Féin fully endorses this and McCartney welcomed the support of the Executive for this position.
"No one should pay twice – we fought the election on this commitment and this report delivers on that," he said.
"People will now pay for their water along with their rates, as was the case in the past. The improvement is that there will now be a clear, separate line in the rates bill. This will make it open and transparent. People will see what they are paying. The link that existed between rates and water that was broken by Mark Durkan and David Trimble has been re-established.
"People who are eligible for reliefs under the rates system will now be eligible for exactly the same reliefs in relation to water. The recommendation for further targeted assistance – for example, for people who are asset rich and cash poor – the affordability tariff will be worked on further in Strand 2.
"The announcement will mean that, next year, people will be paying nothing for their water and that in future years people will be paying less than was being forecast - paying less for water and their rates."