25 October 2007 Edition
Threats issued to Sinn Féin councillors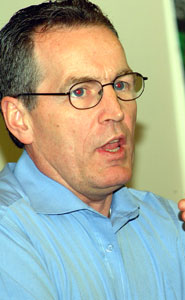 Sinn Féin MLA for North Belfast Gerry Kelly said that threats delivered to five party Councillors in the area on Tuesday are unacceptable and would not prevent or prohibit the councillors continuing to serve the community who elect them.
Speaking on Wednesday Kelly said that last weekend five Sinn Féin councillors from North Belfast and Newtownabby who have been nominated to local District Policing Partnerships (DPPs) received threats instructing them to resign these positions.
"Quite rightly the councillors involved refused to be intimidated and publicly stated that they had no intention of leaving the DPP", Kelly said.
"Last night the PSNI once again visited the homes of the five Councillors informing them that these threats to their lives had once again been issued.
"I have to say those behind these threats need to reflect long and hard on their position. They have taken their place in a long line of people including the British State and their surrogate loyalist gangs in threatening Sinn Féin public representatives and members. These threats and campaigns of violence against our party failed in the past to stop us representing the people who elect us and they will continue to fail in the future."
The initial threats to the councillors were issued by a so-called republican micro group, through a call to the Irish News on Sunday, 21 October.
The PSNI relayed the threat to the party's representatives on Belfast council Danny Lavery, Margaret McClenaghan, Tierna Cunningham and Conor Maskey as well as Briege Meehan who sits on Newtownabbey council, but refused to disclose which micro group was behind the warning.
In a statement Alex Maskey said: "It is totally unacceptable that anyone purporting to be republican should threaten other republicans.
"It is equally unacceptable that the PSNI can visit the home of an elected representative with this type of information and then refuse to provide details of the alleged threat.
"If such a threat does exist I can assure everyone that it will not deter any Sinn Féin politician from continuing to work for the people they represent and the wider community. I would encourage all republicans to get behind the process and help to advance our republican objectives in a democratic and peaceful manner."
Meanwhile South Antrim Councillor, Henry Cushinan (Toome) was visited by the PSNI on Monday 22 October and informed that they had information that his life is under threat from 'Loyalist paramilitaries'.
Commenting on the threat Councillor Cushinan said the PSNI informed him that they had a letter which indicated that his life was under threat from what they described as 'Loyalist paramilitaries'.
Commenting Cushnihan said: "I find that at a time when we are hearing all types of assurances that unionist paramilitary groups are trying to forge a peaceful way forward that they continue to target and threaten Sinn Féin representatives in this manner. But I believe that it is totally unacceptable that the PSNI can visit the home of an elected representative with this type of information and then refuse to provide detail of the alleged threat in order that its veracity and the precautions required can be assessed.
"If such a threat does exist I can assure everyone that it will not deter me from continuing to work for the people who elected me and  for the wider community."