25 October 2007 Edition
ECONOMY : ESRI warns of possible tax rises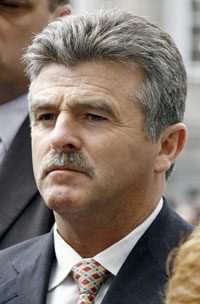 Government got it wrong on tax
IT'S TIME for the Irish Government to admit that it got it wrong in proposing tax cuts in the face of an economic slowdown, according to Sinn Féin's Economic Affairs spokesperson, Arthur Morgan TD.
Morgan was responding on Tuesday to warnings from the Economic & Social Research Institute (ESRI) that taxes may have to be raised in the Budget in order to maintain public services.
"There was broad knowledgement across the political and social spectrum in advance of the general election of a number of key vulnerabilities in the economy," Morgan said. "Chief amongst these was the implication for tax receipts of a widely predicted decline in the construction and property sectors. The Tax Strategy Papers prepared in advance of the last Budget show that there was a clear awareness of this within the Department of Finance."
The Louth TD said that pre-election promises to cut taxes were "a reckless act by an arrogant and complacent government".
He continued:
"It is time now that the Minister for Finance admitted that his party got it wrong in proposing tax cuts in the face of economic slowdown. It is time to be honest with the public and acknowledge that these cuts cannot be implemented if current levels of public services are to be maintained for a growing population."
He said that Sinn Féin was correct in the run-up to the election that, with the slowdown in economic growth and the developments in property and construction, the Government cannot afford to cut taxes and maintain, let alone improve, public services.