25 October 2007 Edition
Students' Dáil call for urgent grants action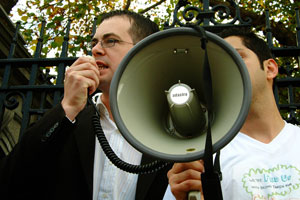 FIANNA FÁIL Education Minister Mary Hanafin has been slated by Sinn Féin Senator Pearse Doherty for back-tracking on her promise of new legislation ensuring the timely delivery of maintenance grants for third-level students. He was speaking at a rally of students organised by the Union of Students of Ireland outside the Dáil on Tuesday.
Responding to a Sinn Féin parliamentary question on the issue last December, Minister Hanafin assured the Oireachtas that the Student Support Bill would be introduced by early this year, thereby eliminating the stress caused to students by late payments of maintenance grants.
Doherty said that Sinn Féin had written to Minister Hanafin in August of this year, again outlining the party's concerns for students' financial well-being during the coming academic year due to the Bill not being introduced as promised.
Forty per cent of those attending third-level education receive state support. These monies are currently administered by no fewer than 66 grant-issuing bodies. According to Pearse Doherty, this makes applying for grants cumbersome and inconsistent and he said that the Student Support Bill is crucial to reforming the process.
"Those who suffer most are students from low-income and rural families. With grant payments delayed by up to four months, many have to borrow to enable them to pay rent and utilities. In extreme cases, some have no option but to drop out. This is particularly applicable for a region such as Donegal, where the unemployment rate is at 18 per cent," Doherty said.
"It is also worth noting that grants still fail to cover a number of additional costs associated with third-level education, such as rent, essential equipment, travel and childcare. All of these are huge education barriers to young people from rural areas."
The Sinn Féin senator said that maintenance grants and fee subsidies should be extended to include part-time students if we are to extend access to education. As we are entering an economic downturn, the up-skilling and retraining of mature students should be to the forefront of the Education chief's remit. He added:
"There should be no further delay in the Student Support Bill. Sinn Féin supports the USI 100 per cent in its demand for the Bill to be urgently enacted."