25 October 2007 Edition
Sinn Féin exclusion from Dáil Committees undemocratic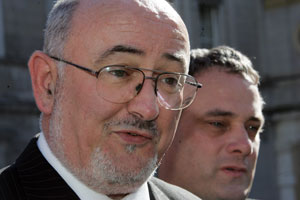 Sinn Féin Dáil Group Leader Caoimhghín Ó Caoláin TD has described the attempt to exclude Sinn Féin from all Dáil Committees with the exception of the Implementation of the Good Friday Agreement committee, as totally undemocratic and a slap in the face to the constituents who vote for the party.
"It is nothing more than a heavy handed effort to silence voices of opposition within the Dáil and it will not be successful", Ó Caoláin said.
The Sinn Féin TD said the party would not be silenced and would not accept discrimination from Fianna Fáil, the Greens or any other party.
"We will be demanding our rights. We will be demanding that we are allowed to represent our constituents. We will continue to highlight the shambolic state of the health service. We will persist in outlining our alternatives for an equitable universal healthcare service, particularly in the area of cancer care", Ó Caoláin said.
"The government is clearly prepared to do everything they can to avoid facing a Sinn Féin TD on the Health Committee and other committees within the Dáil. They don't want Mary Harney to be properly held to account. However we will challenge them every day of the week and will continue to resist their efforts to exclude us from our right of membership to the committees of our choice", he said.