27 September 2007 Edition
Fifth Column
Liz O'Donnell reveals all
LIZ O'DONNELL, the loveliest of the Progressive Democrats TDs (granted, she didn't have much competition in the PDs) has taken to becoming a newspaper columnist since she lost her seat in the general election.
Displaying her wares in the Sunday Tribune, 'Luscious Liz', as she is described by our more laddish contemporaries in the meejah, tells us that she's getting over the shock. And there is life after politics, especially when the Trib's political editor, Kevin Rafter, woos her by telling her she can write what she wants. She doesn't even have to talk politics. Liz does though, sort of.
She muses that people have had a certain image of her, her being deputy leader of the right-wing rump of the FF/PD government.
"There was an expectation of gravitas, and I had it in spades," Liz purrs. Ahh, that image. But what about the reality? Does she miss being at the seat of power? No.
"Gone are the sleepless nights fretting about an early call from Morning Ireland, when interviews were often, I can now reveal, done in my underwear."
In her underwear?!!!
If she'd revealed that before polling day, the men of Dublin South, at least, might have put her back in. The same can't be said of Michael McDowell in his underwear though.


Liberal accounts of sex
WOMEN Liberal Democrats at their annual conference in Brighton last week held a fringe meeting.
It was called: "Let's Talk About Sex."
Now there's an idea for the Sinn Féin Ard Fheis Planning Committee.


Talking about a revolution
MARTIN McGUINNESS'S revolutionary credentials are being questioned… by the Socialist Workers' Party.
The sushi socialists aren't impressed with the Derry former IRA leader's role in the Iraq peace talks process in Finland.
Under the headline: "What side is Martin McGuinness on?" one Seán Mitchell writes: "McGuinness is a man that claims anti-imperialist credentials. Whatever these were, you can be sure that they no longer exist."
Other people with McGuinness in Finland who would know  absolutely nothing about revolution compared to the SWP included the African National Congress. (Toppling apartheid? Child's play! When did the ANC ever mount a campaign like 'Save Dún Laoghaire Baths'?)
But Martin McGuinness's problem, according to the SWP, is that he didn't demand an immediate withdrawal of all US/British forces, renationalisation of  the oil industry, and probably a speaking tour by Kieran Allen telling the Iraqi workers where they all went wrong too, before flogging them a copy of Socialist Worker at the solidarity price of three months' wages in Fallujah.
Feeding off conflict rather than try and help resolve it, the SWP complain that there was no discussion of the US/British occupation of Iraq.
So what does the SWP think was the hot topic raised by Sunni and Shia participants? Should Steve Staunton stay as Ireland manager? Did Martin McGuinness know just what is going on with Ian Beale in East Enders? Did the ANC think it was worth putting a few bob on South Africa to win the Rugby World Cup? Somehow I think the occupation was discussed.
And remember that this is part of a process, an outright condition of the discussions being that there would be no representatives of those involved in the current military occupation of Iraq. Granted, they haven't come up with the Communist Manifesto, but the SWP would probably denounce them if they did that too.
Sinn Féin and ANC members took part, McGuinness said, "on the basis that we weren't prescribing to anyone how the conflict in Iraq be resolved, but that if there was any benefit to be taken from our experiences then that was something that we would be very pleased to pass on".
The SWP aren't very pleased about that. They're big into prescribing.
They'd rather tell the Iraqis what's best for them because the "only genuine alternative", of course, is to build the Socialist Workers' Party under their flag of convenience, the People Before Profit Alliance, for the local elections.
If only the Iraqis could get with the SWP programme. Some people.


Indian mutiny
FAMILIES of British soldiers who brutally suppressed a rising by Indian troops in 1857 seem surprised that there's vocal opposition to them commemorating their descendants' dark deeds in defence of the British Empire.
Generations of English schoolboys have been taught about the treachery of the natives in the Sepoy Mutiny; the people of India and Asia find that term offensive and more accurately call it the First War of Independence.
The British party insist that their mission is to commemorate those on both sides who lost their lives. Their leader is a descendant of Major-General Henry Havelock, who was tasked to "pursue and utterly destroy all mutineers and insurgents". Captured mutineers were either hanged or strapped across the mouths of cannon and blown to bits. Whole villages were wiped out by the British Army if they were considered sympathetic to the rebels.
The number of people estimated to have been killed by Major-General Havelock and his comrades has been reckoned at up to 10 million.
There's even a statue to Havelock in Trafalgar Square from "a grateful country". India isn't so grateful.


The Special One
SOMEONE ELSE who has just lost their job is Jose Mourinho, the charismatic if controversial former manager of Chelsea, the man who admits he thinks he is 'A Special One'.
Before getting the boot himself, Jose recounted his father's experience as a manager:
"I was 9 or 10 years old and my father was sacked on Christmas Day. He was a manager; the results had not been good. He lost a game on December 22nd or 23rd. On Christmas Day, the telephone rang and he was sacked in the middle of our lunch."
Asked another time by reporters about the pressure he must be under to win a game after an uncharacteristic two defeats in a row, an exasperated Jose raised his eyes and exclaimed:
"Pressure? Pressure, what? Pressure is millions of parents around the world with no money to feed their children."
Chelsea aren't the only ones who will miss him.

An Phoblacht Magazine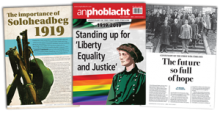 AN PHOBLACHT MAGAZINE:
Don't miss your chance to get the first edition of 2019 published to coincide with the 100th anniversary of An Chéad Dáil and Soloheadbeg.
In this edition Gerry Adams sets out the case for active abstentionism, Mícheál Mac Donncha takes us back to January 21st 1919, that fateful day after which here was no going back and Aengus Ó Snodaigh gives an account of the IRA attack carried out on the same day of the First Dáil, something that was to have a profound effect on the course of Irish history.
There are also articles about the aftermath of the 8th amendment campaign, the Rise of the Right and the civil rights movement.