20 September 2007 Edition
Ógra play active role in Shell to Sea Day of Action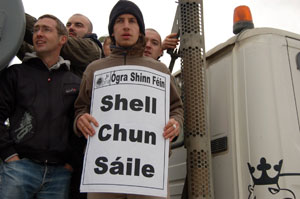 MEMBERS of Ógra Shinn Féin joined Shell to Sea campaigners from all over Ireland on Friday, September 14, in solidarity with the local community in Rossport, County Mayo.
People took part in a sit-down protest outside the main gate of the proposed controversial gas refinery in Bellinaboy.
At around 8.30am, more than 80 of the assembled group, including Ógra activists, stormed the building site after getting over the main gate. Inside the site the protesters were met with heavy-handed tactics from both site security staff and Gardaí, who made it clear that the state's priority was the welfare of a private company rather than the citizens.
Protesters occupied building machinery, ensuring the stoppage of work on the site before another sit-down protest on the site. At this point, rank-and-file Gardaí stepped back to allow their Public Order Unit to deal with the situation.
The Public Order Unit dragged protesters from the site, bearing no identification details usually seen on Gardaí. One Ógra member was kicked in the head and suffered concussion.
Ógra Shinn Féin spokesperson and co-ordinator Áine Ní Dhúbháin said:
"The situation in Rossport is not now and has never been acceptable. A multinational corporation is endangering the lives of the local community in Rossport in order to increase their profit margins. If this project is allowed to be completed it will set a dangerous precedent for developments here and in other countries in the future."
Speaking on the role of the Gardaí in the day's events, Ní Dhúbháin said:
"The Gardaí have today further isolated themselves from the local community. They have proven today that they are no more than professional security guards for Shell. However, despite the actions of the Gardaí and on-site security guards, the protesters maintained their discipline and did not react to the continuing provocative actions of the Gardaí.
"Today must act as a rallying call to every right-minded person in this country that Shell has no right to abuse our communities and exploit our resources for private gain."