20 September 2007 Edition
Suicide debate at Stormont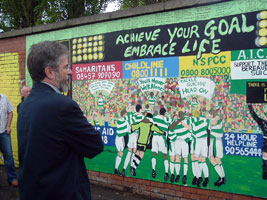 Sinn Féin continued to highlight the issue of suicide in Stormont this week when the party initiated a debate around funding and services. A motion tabled by West Belfast MLA Gerry Adams to set up an Ad Hoc committee was withdrawn after consultation with the DUP's chair of the Health Committee, Iris Robinson.
The consultation resulted in an agreement to proceed with the issue of provision through the Health Committee. Despite Sinn Féin's withdrawal of the initial motion the debate was allowed by the Assembly chair to proceed.
Speaking in the Assembly chamber Gerry Adams described the statistics of suicide as 'frightening'. In 2006, 291 people died by suicide in the north and close to 500 died in the south.
"That means that nearly 800 people took their lives last year on this island. Yet suicide is preventable, all of us can play a part in reducing it," said Adams.
"The bereaved families have demonstrated remarkable courage. Many of them have been to the fore in helping to prevent the same tragedy engulfing others. They deserve our respect but they also deserve practical assistance and public investment."
"A lot of burnout has occurred at the grass roots, support groups and family networks are still not properly resourced. It is a source of concern that there are still insufficient community based services, too few psychiatric nurses, psychiatrists and psychologists and most GPs still do not receive dedicated training in suicide awareness," said Adams.
The issue of suicide is to take centre stage at Stormont again next week when Gerry Adams hosts a conference on suicide in the long gallery on Monday 11.30am.