30 August 2007 Edition
Letter to the Taoiseach
'The Flight of the Earls' has been a recurring theme at festivals and summer schools this year, particularly in the top half of the country.  Are we celebrating or are we commemorating?  
Does not 'The Plight of the Gaelic Chieftains' more accurately describe the situation of the O'Neill's of Tyrone, the O'Donnell's of Tyrconnell and the Maguire's of Fermanagh who left from Rathmullan in County Donegal to find refuge in other parts of Europe and to seek assistance for their cause back home in Ireland? Four hundred years ago this year.  
Marking the end of an ancient Gaelic Order that had lasted over a thousand years.  Clearing the way for the Plantation of Ulster.  I didn't know that Hugh O'Neill died in the same year as William Shakespeare passed away.  1616.
I'm not really an historian, Taoiseach.  Perhaps, because there is so much to be contested in the here and now.  But, a little bit of understanding of one's history never did anyone any harm, I say.
Fionnuala O'Connor of the Irish Times would call you 'dour' for remembering Ireland's past.
A lecturer from the University of Ulster told me that he gave a lift on Friday evening 17 August to two Spaniards who were thumbing to Letterkenny.  "Four hundred years late", he told them.  Twenty nine leading scholars debated the whole weekend at the Institute of Technology.
Apparently, the Lough was named after Chichester for a while before Ulster said 'Neagh'.  Meanwhile, at Feile an Locha held in Washingbay in East Tyrone, five of us formed a panel and discussed what might have been, "Should O'Neill have stayed at home?"
Would Henry Downey and Diarmaid Marsden have played for Tyrone since O'Neill's Country took in South Derry and North Armagh?  Would the clergy have wielded so much influence in subsequent years?  Each of us had our own theories.  Would the snowball have gone earlier at Edendork bingo?  Hard to know, isn't it?
In truth, there was only one worthy historian among us on the platform.  Brendan McAnallen from the Brantry did exhibit some enlightenment in between unorthodox analysis from Ian McCann, Ann Devlin, myself and Sean Donnelly.  He is some turn, Sean Donnelly from Brockagh....I can hear them laughing, yet, in the Lough Shore.  Did you know that Brockagh had vowed to wrest back the Féile Debating Challenge Cup from the Derrytresk Brewers, a cup that they have held since 1997.  
What happened this year, then?  The Derrytresk ones were stranded in France inviting comparisons with 1607 and all that.
There are many forthcoming events of note in Donegal, Tyrone and elsewhere.  Will you get a chance, Bertie?
History awaited me, too, in County Offaly where I visited the monastic settlement at Clonmacnoise.  The English were at it again, there, raiding this hugely important site in the mid 1500's.  I was down for Fleadh Cheoil na hEireann, myself.  Did you know that Loinnir McAliskey whose mother, Roisin is fighting against extradition to Germany came third in the U-11 traditional Irish singing or amhranaíocht in Tullamore.  Third in the whole of Ireland.  Isn't that something?
My own daughter, Niamh, a friend and rival of young Loinnir also qualified for the All-Ireland by getting out of Tyrone and Ulster and sang with distinction in the same competition, Taoiseach, even if I say so myself.  And I hear that young Thomas Quinn and Stephen McKee did terrible well in the banjo competitions.
Moving on, Taoiseach, I see that Pat Rabbitte has thrown in the towel. And Brendan Howlin cannot be bothered. All too much for them at the finish.  Will 'Pillar' Caffrey stay on, do you think?   Might you apply if there was a vacancy there, Taoiseach, given your own imminent departure from the political arena?
What did you think of Kerry, yourself?  Declan O'Sullivan, Brain Sheehan and Colm Cooper oozed class, when all is said and done and sometimes there is nothing else for it but to sit back and applaud the masters.  
I'm supporting Derry minors in the replay.  Are you backing Laois?  What about the hurling?  Limerick or Kilkenny?  Any spare tickets?  Hats, Flags and rosettes.  I scream, you scream, we all scream for ice-cream.  Anyone for the last few choc ices, now, as Christie Moore might say?

Is mise le meas
Barry McElduff



NB: Bertie Ahern can be contacted on (00 353) 1 619 4020 or e-mail [email protected]  Address: Office of the Taoiseach, Government Buildings, Dublin 2.

An Phoblacht Magazine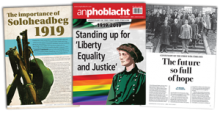 AN PHOBLACHT MAGAZINE:
Don't miss your chance to get the first edition of 2019 published to coincide with the 100th anniversary of An Chéad Dáil and Soloheadbeg.
In this edition Gerry Adams sets out the case for active abstentionism, Mícheál Mac Donncha takes us back to January 21st 1919, that fateful day after which here was no going back and Aengus Ó Snodaigh gives an account of the IRA attack carried out on the same day of the First Dáil, something that was to have a profound effect on the course of Irish history.
There are also articles about the aftermath of the 8th amendment campaign, the Rise of the Right and the civil rights movement.