30 August 2007 Edition
Fifth Column
Gurkhas on the Falls Road
The famous and feared Gurkha warriors, those plucky little fighting men from the rugged mountains of the enchanted Himalayan kingdom of Nepal, were patrolling the Falls Road and Shankill Road last week – protecting car clampers.
The Gurkhas are notorious for being very liberal in their use of the kukri hunting knife, slicing enemies' throats with the boomerang-shaped, small but lethal weapon.
Nepalese boys are given their kukri when they're five years old and they say it becomes "a chopping extension of his dominant arm".
When one Gurkha patrol serving in the Far East in the Second World War returned with a basket to present General Sir WJ Slim with freshly caught fish, first they had to take out the three severed heads of Japanese soldiers.
The Gurkhas seen in the North now have swapped the Queen's Shilling for parking meter shillings. Teams of former soldiers and officers from the British Army's Gurkha regiments have been drafted in by NCP (National Car Parks) to beef up security for Belfast's clampers before moving around the rest of the Six Counties.
Even the normally loyal Ulster Unionist Party Mayor of Belfast, Jim Rodgers, has resisted the Gurkha landing:
"I find this absolutely unbelievable. I am flooded with complaints about National Car Parks and their lack of discretion and sensitivity. This is getting totally out of hand."
NCP big wheel Tim Cowen fired back:
"Sometimes, if you are clamping an untaxed vehicle, the owner may get confrontational and we need to be very careful in ensuring our staff are safe."
What about the Gurkhas' safety, them having seen active service as mercenaries with the British Army?
"What they have done in previous careers is not something we need to be concerned with."
Drivers dodging their motor tax, though, might be concerned to know that their local traffic warden used to settle disputes by literally taking the heads off their opponents.


Brits' red card to Palestine
The Palestine under-19 soccer team has been refused visas by the British Labour Government for a three-week tour playing Blackburn Rovers, Tranmere Rovers and Chester City. Why? 'Because they're a front for Hamas or Al Qaeda?' No. 'Because they might beat their mighty English opponents?' No. It's because Palestine is not a rich country.
The tour has been organised by a charity called Truce International, whose patrons include former England coach Sven Goran Eriksson, now managing the top team in Manchester. Truce International is chaired by Sven's much more glamorous partner, Nancy Dell'Olio. Other patrons are Sir Bobby Robson (Steve Staunton's guru in the Ireland national team), Glenn Hoddle and Graham Taylor, respectively former skipper and coach of England's national team.
Truce International's slogan is "Peace Through the Passion for Football."
The inspiration for Truce International came from the legendary First World War Christmas truce football match when German and British soldiers came out of their trenches on Boxing Day 1914 for a spontaneous kick-about.
But although Britons go all dewy-eyed over those emotional First World War scenes, they are blocking any chances of a replay by barring the Palestinian youth team on the grounds that they are too poor to be trusted to return home!
The British Government's rationale is all the more curious given that its own Foreign Office was talking about giving money to the tour under the 'Engaging With Islam' outreach programme until the scheme's funding was ended.
The barring of the Palestinian youth team is an interesting precedent which must surely have ramifications for other sports events, particularly the London Olympics in 2012. How will countries be judged if Britain can afford to let their athletes in? Will competitors from Ethiopia or Kenya, or Ukraine or Romania, need to produce an American Express Card with their passport, or will a few bob in a credit union book and a note from their mammy do?
And even if you have a big wad of readies with you, a sworn affidavit from the World Bank and the deeds to a mansion in the West Indies, when you land at Heathrow, can't you see that you might still not be let in if you look like you could deprive 'Great Britain' of a medal?
"Sorry, sir, you can't come in here," the immigration officer will cough as he holds the palm of his hand up to your face. "No tracksuits."


Foreign take-over of football
This isn't the first time Palestine's national soccer side has suffered from foul play.
In 2005, the Israelis prevented the Palestinians competing on the world stage by detaining players in Gaza during a World Cup qualifier.
The Israeli Army also stopped the entire team leaving Gaza for an Asian Cup qualifier against Singapore in 2006. Then they barred the team from re-entering Gaza for over a month after they competed in Jordan in June of this year.
And English fans are worried about the influence of foreigners in the domestic game? Try supporting Palestine.
Political muscle
Russian President Vladimir Putin's Marlboro Man photo-call with macho poses cowboy-style in sun-glasses on a horse and bare-chested, in combat trousers, angling in a swirling Siberian river has caused a flutter not just among female fans but also fellas who like the Brokeback Mountain school of PR.
Those rippling biceps of the Moscow muscle man's well-honed torso has caused such a stir that the country's biggest-selling tabloid, Komsomolskaya Pravda, has printed a step-by-step exercise guide – "Get a body like Putin's" – so that readers can follow in the rugged steps of their 54-year-old leader, who does judo and is a downhill skier.
Ideas for an Irish version of the Putin pin-up pages are in my pending tray.


Relative jail terms
While the fading UDA one-time pin-up boy, Johnny 'Mad Dog' Adair, is protesting that his years of swallowing sackfuls of steroids haven't necessitated a visit to his local urology clinic in Scotland to have his wobbly bits checked out, his crack- cocaine dealing son, Jonathan, is back in jail.
'Mad Pup' – known to police for a string of drugs and driving offences even though he hasn't got a licence – has been given a seven-month sentence by the sheriff in Ayr for more car crimes. Cops spotted him behind the wheel of a car and gave chase. The pup managed to evade the police and abandoned his hot wheels. But the cops caught up with him later and the dopey dog was also found to be carrying a metal tube with traces of cocaine in it.
Adair Junior's solicitor pleaded to Ayr Sheriff's Court that Mad Pup "has had a difficult upbringing", living in Belfast and Bolton before going to Scotland.
"His father has expressed anger at his continued offending and is determined that his son will keep on the right side of the law and that he will not emulate the criminal record of his father," the solicitor said.
"His record, in relative terms, is minor."
When your relative's jail terms are for being a sectarian war lord of drug-dealing death squads, then maybe he has a point.

An Phoblacht Magazine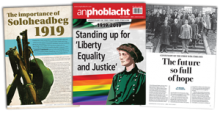 AN PHOBLACHT MAGAZINE:
Don't miss your chance to get the first edition of 2019 published to coincide with the 100th anniversary of An Chéad Dáil and Soloheadbeg.
In this edition Gerry Adams sets out the case for active abstentionism, Mícheál Mac Donncha takes us back to January 21st 1919, that fateful day after which here was no going back and Aengus Ó Snodaigh gives an account of the IRA attack carried out on the same day of the First Dáil, something that was to have a profound effect on the course of Irish history.
There are also articles about the aftermath of the 8th amendment campaign, the Rise of the Right and the civil rights movement.