30 August 2007 Edition
Tara decision a blow to National Heritage - McDonald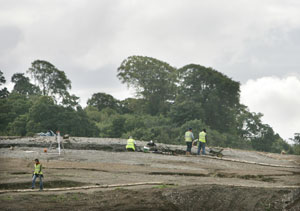 Sinn Féin MEP Mary Lou McDonald has said the decision by An Bord Pleanála to allow the M3 motorway to proceed along its original route is a blow to Irish heritage and history.
Speaking on Thursday, 23 August as the decision was made McDonald said, "The commuters of Meath need and deserve an immediate transport solution. However, it has been proved that this does not have to be at the expense of our heritage.
"Those opposing the construction of the road through the valley have put forward a viable alternative route. This route should have been used.
"Experts have time and again contested to the archaeological significance of the Tara/Skryne Valley and called for it to be preserved.
"The decision by An Bord Pleanála to allow the M3 Motorway to proceed along its original route, through the National Monument at Lismullen, is a blow to Irish heritage and history."