30 August 2007 Edition
Tragic death : Major health and safety issues raised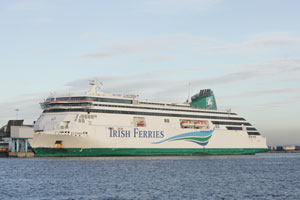 Man dies on board Irish Ferries ship
A Polish lorry driver suffered a heart attack and died on board an Irish Ferries vessel on Thursday after two passengers came to his aid. The passengers, one a school nurse and one who had some CPR training, administered CPR to the man but unfortunately were not able to save him. The nurse subsequently phoned RTE's Liveline show where she suggested that the man's life may have been saved had there been a defibrillator on board the ship. The Stena Line company provide defibrillators on all of its vessels with a large proportion of its staff specifically trained to use the medical equipment.
The marketing director for Irish Ferries Tony Kelly then appeared on the show saying that the company did not provide defibrillators on board the ships as they were not legally obliged to do so.
Kelly on Liveline said of the defibrillator situation: "Irish Ferries are governed by statutory requirements and does not decide what it would like to do in respect of safety on board our ships...within these regulations, none of them stipulate that they have a defibrillator. We have adopted a position that we would not introduce any ad hoc arrangements of safety equipment or training of crew on board our ships."
According to a spokesperson for Irish Ferries the primary regulator of its ships health and safety standards is the Department of Transport and Marine. However, the Department of Transport and Marine has said that as the Irish Ferries ship the MV Ulysses was registered in Cyprus, the primary health and safety regulators for it would be Cypriot.

No mandatory defibulators
The Department of Transport and Marine only conduct inspections aboard the Irish Ferries vessel to ensure that they meet international health and safety standards which do not include the mandatory carrying of defibrillators. The primary regulator of the Stena Line ships is the British Maritime Coastguard Authority, which recommends that all ships should have defibrillators based on "risk assessments."
Kelly, the Irish Ferries representative, when asked whether it was cost that was the issue in relation to non-provision of defibrillators he said, "It's not about cost." He said that it required "specific, certified training" but went on to say that that was "not a difficulty" for them. Defibrillators in Ireland cost approximately €2,500 while Irish Ferries pays its Chief Executive an annual bonus of over €420,000.
Irish Ferries is well known for making 543 Irish crew members redundant in favour of taking on cheaper foreign labour in 2005. It was standard practice for Irish Ferries to send its entire staff on first aid training courses and some crew members to First Responder medical training courses conducted by Dublin Fire Brigade Training Centre.
During the Liveline discussion Tony Kelly said, "Our crews are trained to the highest possible standard....which includes first aid and a higher standard of medicare."
During the incident in which the passenger died, the crew did not instigate any action plan to save the plan and only took over from the passengers who attended the scene to give CPR very briefly.
An Phoblacht contacted Irish Ferries about this issue but no spokesperson for the company was available for comment.