30 August 2007 Edition
Ó Caoláin slams government policies on A&Es and nursing homes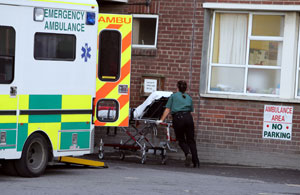 Commenting this week on a new survey linking distance travelled by ambulance to hospital emergency departments to the risk of death, Sinn Féin Health spokesperson Caoimhghín Ó Caoláin has called on the Irish Government to heed the warning and to scrap plans to close A&E units around the State.
The survey carried out in Britain and just published in the Journal of Emergency Medicine confirms that increased distance from A&E departments is associated with increased risk of death.
"The Irish Government must now heed this further warning which adds to the voices of communities throughout the state who are threatened with the loss of A&E units. Deaths have resulted from the cutting of A&E and maternity services, most notoriously here in County Monaghan", Ó Caoláin said.
"This latest survey result may seem obvious and it is all too tragically so for the communities served by Monaghan General Hospital who have seen deaths as a result of the longer journey times imposed by cutting of services to our hospital. However this is an important study because it was carried out in the context of current British Government proposals to close A&E units in smaller hospitals.
"The policy of Health Minister Mary Harney and the HSE to dangerously over-centralise all acute emergency care services has been repeatedly rejected by the Irish people. The Government must scrap that policy and ensure that existing emergency services, including hospital A&E units and ambulance services, are enhanced and developed. Closed A&E units such as those at Monaghan must be fully restored. Nothing less is acceptable."
Nursing home "robbery"
Last week Ó Caoláin denounced Mary Harney's decision to approve the retention of more than €12 million of interest earned by long stay residents in nursing home and in other care facilities. Ó Caoláin described the measure to be introduced later in the year as "robbery".
"Mary Harney has, in effect, approved a multi-million euro robbery of vulnerable people. This measure will allow the HSE to retain 25% of interest earned on the accounts of nursing home patients. It is a bizarre move and it is simply incredible that Mary Harney has given it her approval", Ó Caoláin said.
"What financial institution would dare charge its customers 25% of interest earned? If a small fee were necessary to cover administrative costs then so be it but charges to the extent exposed this week are unacceptable.
"This is yet further proof that Mary Harney is out of control – it is clear that she has little interest in patients or users of the Health services. The most disappointing aspect of the continuing debacles within the Department of Health and Children and the HSE is that it appears that Minister Harney's cabinet colleagues in Fianna Fáil and the Green party are either unable or simply unwilling to end her reign of mismanagement. Bertie Ahern has a lot to answer for", he said.