30 August 2007 Edition
Loyalist Parade : Drunken sectarian coat trailing in Newry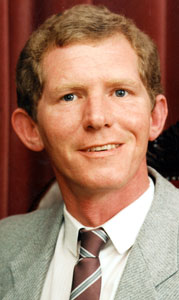 Anger at sectarian romp
Sinn Féin Newry/Mourne Councillor Brendan Curran has  criticised a loyalist band parade involving over 40 Bands parading through the greater Belfast/Rathfriland Road area of the city, last Friday 24 August. He said that the parade was viewed by the mainly nationalist residents of that area, as "a deliberately sectarian romp and coat trailing exercise".
Residents had expressed their concern to the Newry Councillor in the run up to the parade.
"They could comprehend the logic behind the Parades Commissions decision to allow this loyalist band parade into the centre of Newry.
"Residents were hemmed in by a 'ring of steel' and subjected to the accompanying chaos, drunken and sectarian intimidation, for  several hours".
Speaking prior to the march, Curran had made it clear that Sinn Féin continued to be committed to engaging with those involved with various Loyal Order and Church Parades in the area, to help address issues of concern.
"However we do oppose the sectarian coat trailing exercise which these loyalist bands attempt to foist on the people of Newry on an annual basis.
"The resolution of this issue lies in both dialogue and accommodation at local level. The organisers of this loyalist band parade consistently refuse to engage in this process in Newry. Indeed most recently they reneged at the last minute on an agreement to meet."
Curran appealed for calm in advance of the parade
As it turned out residents of the Greater Belfast/Rathfriland Road were besieged by loyalist bandsmen in uniform, many of them and their supporters drunk and abusive. The event caused considerable inconvenience and offence to nationalist residents and will have been seen to have contributed nothing positive to community relations in Newry.