30 August 2007 Edition
Rabbitte legacy : U-turns, double standards and failure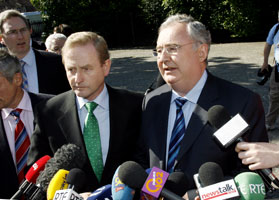 Rabbitte's journey to the right
BY
ROBBIE SMYTH

No groundbreaking legislation, or great policy initiatives, little growth of party strength but retiring Labour Party leader, Pat Rabbitte, had by most formal establishment measures, a successful political career.
Beginning in student politics, then in the trade union movement and finally in Leinster House, Rabbitte was declared a general success in mass media coverage of his resignation last week. But what plaudits was he awarded for a supposedly glittering political career? It seems that other than sharpness of wit and masterly quips across the floor of Leinster House, Rabbitte's trophy cabinet is bare.
Pat Rabbitte was personally successful as a career politician and in every organisation he joined he rose through the ranks. But in reality he leaves a legacy of political failures, u-turns and spurned opportunities to harness grassroots left unity in the Irish electorate.
In future years Rabbitte's masterful putdowns will be forgotten and the substantial vacuum of his lack of tangible political achievements will be his only legacy plus his Mullingar Accord that pulled a sinking Fine Gael back from the brink of collapse.
Rabbitte's personal achievements are substantial. How many other people do you know who were elected president of their university and then national student unions and then transferred to the mainstream labour movement where he rose to be National Secretary of the Transport & General Workers' Union.
Rabbitte added a seat on Dublin County Council in 1985, moving on to win a Dáil seat in 1989. In 1994 he was appointed a junior minister in the Fine Gael/Labour/ Democratic Left rainbow coalition.
Then, in the aftermath of the 1997 Leinster House election and the beginning of the Ahern era, Rabbitte added another chapter to his political odyssey by leading support within Democratic Left for a merger with Labour. In the aftermath of Ruairi Quinn's 2002 resignation as leader, Rabbitte was elected leader of the Labour Party.
Rabbitte had returned to his political origins, having left the Labour Party in 1976 because of its role in a coalition government with Fine Gael. That government ignored inequality and poverty and actively eroded civil rights. It promoted political censorship in the media and internationalised the Irish economy through EU membership with little thought given to any of the negative outcomes such as job losses in industry and a systematic decimation of rural Ireland as a small elite of farmers gained the benefits of CAP funding and other rural grant schemes.
What is not clear is which of these policies prompted Rabbitte's departure from Labour three years into the Coalition's term of office, for in his subsequent political career he tackled none of these issues.
In fact in 2002 when Labour could have joined with Sinn Féin and the Greens in opposing the Nice Treaty, Rabbitte signed up for not just the Yes to Nice camp, but also the second referendum that overrode the democratic result of the first referendum.
In the late 1970s Rabbitte joined what was then called Sinn Féin the Workers Party, (SFWP), a seemingly more left wing alternative to Labour. Rabbitte didn't have any problem with the SFWP's ignoring of the inequalities in the Six Counties at the time and thus began the first of Rabbitte's lifetime of political double standards. His political viewpoint was blind to any discrimination, state sponsored terror, or general political oppression in the North nor any of the emergency powers enacted in the 26 Counties that eroded civil rights. Rabbitte's consistent lack of real support for the peace process is a hallmark of this aspect of his political personality.
When it came to the role played by Workers Party members in the North's conflict or the absence of any 'Official IRA' ceasefire or decommissioning, Rabbitte has had little or no comment to make on this element of his former party's past.
Similarly when it came to the disclosure of trips by the Workers Party leadership and the infamous Moscow letter looking for Kremlin funds for their Irish political campaigning, it seemed to be a different Workers Party that Rabbitte was a member of. He seemed totally ignorant of anything outside the immediate WP parliamentary party.
In the movement from the WP to New Agenda and Democratic Left, Rabbitte emerged as the dominant force in the political grouping as it moved increasingly to the right, culminating in the 1994-1997 Rainbow coalition. That saw Prionsias De Rossa as party leader and minister for Social Welfare instigating not an increase in welfare funding but more stringent means testing for benefits and systematic harassment of long term claimants to get them off the Live Register. The same government introduced tax cuts for high wage earners, privatised the embryonic state banking sector which included the ACC and ICC banks.
Last year when AIB posted yet another set of record profits, Rabbitte bemoaned the lack of competitiveness in the Irish banking sector, forgetting it seems the role of the government of which he was part in allowing AIB to grow into an even more dominant market force.
The revelation that, in 1992 Rabbitte initially took and then returned money to Frank Dunlop, who was lobbying councillors on behalf of property developers seeking votes in favour of commercial planning developments, is just another episode in a catalogue of contradictions through Pat Rabbitte's political career.
This was highlighted acutely in the last Dáil. In 2002 Fine Gael was in freefall. Labour was in the doldrums but with substantial representation of the left in the history of Leinster House. The Labour Party's 20 seats were joined on the left by five Sinn Féin TDs, six Greens, and then the left independents such as Seamus Healy, Joe Higgins, Tony Gregory, Finian McGrath, Jerry Cowley and Marian Harkin.
Labour could have been the catalyst for a common platform and mutual support on policies dealing with workers' rights, taking on the property developers, real health service reform, rural development, protecting and enhancing the public sector, yet what did Rabbitte do. He spurned all of these options and threw a lifeline to Fine Gael, who in 2007 rebounded from 31 to 51 seats while Labour stood still.
If anything this is Rabbitte's real legacy, he revitalised Fine Gael, and turned his back on a coalition of the left.
Perhaps the most cogent critique of Rabbitte came from former Labour leader Dick Spring who was interviewed last Sunday, 26 August on RTÉ radio. Spring talked about the difficulties of Labour making its message relevant to the modern consumerist electorate and said that Joe Duffy's Liveline programme was for many the only outlet they had when complaining about issues like health or housing.
Compare this declaration by Spring to an early 1970s interview with Rabbitte quoted in the Irish Times last week. Rabbitte said that he wanted to do something to change the inequalities in Irish society. It seems that where another former student leader Joe Duffy can offer at best temporary solace and a voice to the dispossessed, Labour's 20 Dáil seats, six senators and 100 councillors could under Rabbitte's leadership offer nothing.
It is as you were for Labour in 2007. The new leadership has the potential to learn from Rabbitte's legacy and not lose another five years to the right in Leinster House.