30 August 2007 Edition
United Ireland : Open discussion to be encouraged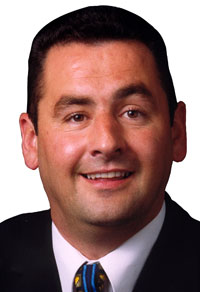 Bloomfield highlights future political challenges
Sinn Féin South Down MLA Willie Clarke, who is responsible for managing the party's Irish unity campaign in the North, has welcomed comments from former head of the Six County Civil Service Kenneth Bloomfield.
Speaking at the 40th anniversary Merriman summer school in county Clare, Bloomfield said some form of Irish unity is not unthinkable in principle and criticised " that parody of democratic government, [British] direct rule"
Commenting on Bloomfield's speech, Willie Clarke said:
"No one should doubt that when an old-school unionist such as Ken Bloomfield can recognise the political dynamic of Irish re-unification that he is reflecting the much broader political realities.
"We live in a political climate that is dominated by changing realities. Our society is undergoing deep and profound transformation.
"The new thinking displayed by Ken Bloomfield is a welcome contribution to what should be a healthy and positive debate on the future constitutional position on the island of Ireland. While I would dispute the timeframe indicated by him I would encourage further open discussion of the shape of the new Ireland that is evolving.
"The Good Friday Agreement, while a long way from a republican document, did create the conditions from which all political aspirations could be pursued and developed on a level playing field. Ken Bloomfield actually reflects what is already taking place in many sections of Northern society", Clarke said.
But the Sinn Féin MLA criticised other remarks in Bloomfield's speech which he said could be interpreted as an inherent threat that unionists would not accept the democratic wishes of a majority in any vote in favour of Irish unity.
Bloomfield had said: "Please do not suppose that if, in some future poll, 50.1 per cent of the electorate were to vote for Irish unity, the outvoted 49.9 per cent would tramp into the new jurisdiction like a defeated army".
"We should not be speaking in terms of victory or defeat but what is the most beneficial political and economic road to travel for the stability and security of future generations", Willie Clarke said.
"In the North we now have local politicians, Irish politicians, setting the political agenda. We have a unique set of political institutions and arrangements which reflect the unique set of political circumstances we have all come through.
"The arrangements now in place threaten no ones political aspirations. Indeed they provide for the first time a common space to discuss and debate our futures on the basis of equality and respect.
"I believe that there is an unstoppable momentum towards Irish unity. This is reflected across all sections of our society and even privately many unionists recognise this reality. It is a question of how we manage this transition", he said.