30 August 2007 Edition
Indian festival promotes greater respect - McGuinness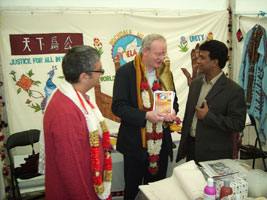 Sinn Féin deputy First Minister, Martin McGuinness MP MLA, opening a traditional Indian summer festival in Belfast on 26 August said that the event did much to promote greater understanding and respect between ethnic and local communities.
Speaking at the annual Mela at Botanic Gardens, McGuinness described the one-day festival as a celebration of changing cultural mix.
"This festival puts Indian culture at its heart by giving people an exciting range of activities and events that inform and inspire. But it's also a real example of cultural diversity and an opportunity to explore and change our perceptions of cultures that are different from our own experience.
"The Executive is committed to social cohesion and integration, because as today's event shows, mixing cultures and traditions provides a wonderful kaleidoscope that enriches us all."