23 August 2007 Edition
Remembering the Past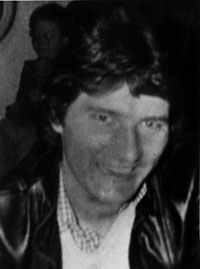 Former Blanket Man assassinated
On Wednesday, 25 August 1982 former H-Block Blanket Man Eamonn 'Broncho' Bradley was shot and killed in Derry City by the British Army.
The 23-year-old IRA Volunteer had just left a public bar, The Shantallow House, with his friend Paul 'Sammy' McCool when they were attacked by British soldiers of the Royal Anglican Regiment.
McCool was pulled to one side and the defenceless Bradley was shot without being questioned or challenged. He was struck in the chest and head and died shortly afterwards from his wounds. All of this occurred in broad daylight.
Speaking after the shooting Paul McCool said: "When we got to the carpark behind the bar Bronch was a bit in front.
"A Brit standing at the corner grabbed me by the arm and said, 'Stand there!' Brocho was still walking.
"Next thing there was a shot and it looked to me as if Broncho was shot in the leg because he crumpled up and let out a roar. At that stage the Brit pushed me back and I couldn't see Broncho anymore. And then I  heard two more shots.
"When I saw him again he lay crouched on the ground, not moving. Three Brits were standing in the carpark bringing their weapons down as from firing position. The Brits left him lying there, concerned only to rope the area off and keep people away.
"They didn't try to administer first aid or get an ambulance. Bobby Sheerin, the barman, came on the scene and ordered an ambulance and covered Broncho with a coat."
Eamonn Bradley from the Carnhill area of Derry had served five years in Long Kesh for republican activities and had been on the Blanket Protest when he was released in April 1981.
Eamonn Bradley had understandable fears about being arrested, in the light of over 30 people being hauled to interrogation centres the previous Tuesday and the fact that his friend Paul McCool had been questioned about him while under detention for six days in Castlereagh in the previous two weeks. But he was not arrested. Instead he was the target of a deliberate political assassination.
This was during the period of the British 'supergrass' tactic where the RUC sought to re-introduce a form of internment by having large numbers of republicans imprisoned on the uncorroborated word of informers. One such informer, Raymond Gilmore, was active at the time and friends of Bradley who had been interrogated by the RUC on Gilmore's word were able to tell him that they had been asking questions about him.
It was obvious to the local nationalist population that even the blatant injustice of this paid perjurer system was not enough for the British who preferred the expedient of assassination rather than having to concoct "evidence" for their supergrass mouth-pieces.
IRA Volunteer Eamonn 'Broncho' Bradley was killed by crown forces 25 years ago this week.