23 August 2007 Edition
Aer Lingus/Shannon controversy : Airport needs to go back to founding principles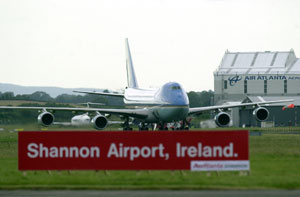 Green field visions versus plane madness
BY ROBBIE SMYTH

Why was Shannon Airport such a success in its early years? How did it move from a green field to a regional economic hub? There were many factors, but the core ones included an innovative approach to enterprise, a commitment to long-term regional development and the political will to overcome any obstacles thrown up along the way.
These were drivers behind the growth of not just Shannon Airport and the spin off development of a vibrant industrial sector, but the start up years of Aer Lingus too. Such crucial attributes have been absent from the policy of not just the current coalition but of Irish governments for more than 30 years.
The decision of Aer Lingus to move planes and high income earning Heathrow landing slots from Shannon to Belfast is not the end of the road for Shannon, but it is a blow for an airport that has been in a political vacuum for years, but most particularly since the third round of renegotiations of the 1945 Air Services Agreement between the United States and the 26-County government was concluded in 1993 with transatlantic carriers allowed bypass Shannon and fly directly to Dublin.
In the intervening years the need to revitalise the airport, kick-starting a new phase of regional economic development, was constantly ignored. The Shannon region as a whole has been strung along with nearly 15 years of dithering, back tracking and broken government promises when what it and the Irish aviation sector as whole needed was effective management of public sector assets both in terms of Aer Lingus and Irish Airports, culminating in an island-wide national aviation strategy rooted in the promise of balanced regional development.
Fianna Fáil, Fine Gael, the Labour Party and the Progressive Democrats have all hidden behind the excuses that Shannon was a victim of international free trade agreements and EU market liberalisation policies, not to mention the demands to privatise state assets.
It is true that these were important factors and the conclusion of the new Open Skies agreement between the US and the EU marks the end of Shannon's stopover status, but it does not disguise the fact that Shannon Airport was built on economic and political opportunism, its economic rationale was never set in stone. It needed and depended on the continuous innovation, enterprise and risk taking of policy makers. Somewhere along the way government forgot this.
It was in 1936 that a Fianna Fáil Government saw potential for transatlantic air flights landing in Ireland, beginning with air boats landing in the Shannon estuary and moving onto a land based airport nearby.
In 1947 airport authorities saw an untapped market opportunity as US travellers disembarked from planes that were being refuelled and started the world's first Duty Free shop. Intervening years saw fuel tanks grow larger and US planes had no technical need to land in Ireland, but clever negotiation using access to airspace as a bargaining chip lead to the 1945 agreement that some US flights had to land in Ireland and that an Irish state carrier could have reciprocal landing rights in some east coast US airports.
As jets grew bigger the state built a tax free enterprise zone adjacent to the airport site. This was used to kick-start a wider phase of regional enterprise particularly aimed at bringing transnational firms to the region as well as developing tourism. Again it worked, though it has never been all plain sailing, with many questionable projects funded, others overlooked and opportunities lost. But a worse fate was to befall Shannon, that of inertia and apathy, and a failure to recognise the changing nature and role of air travel.
Much current debate about aviation concerns passenger numbers with hardly any mention of the need for substantial freight capacity. As the world's most import/export orientated economy and as an island, Irish ports and airports are vital. We need strategies that link them together, with other regions, with their own local economic needs, with airlines that will enhance their services and not just come and go for a quick short term profit. The Dell facility in Limerick would for example not be sited in the county were it not for nearby shipping and air links.
When Iarnrod Éireann's new trains, and in particular the carriages running on the Dublin-Belfast Enterprise route, had to land in Ireland, Shannon was the only airport large enough to receive the massive cargo planes delivering the locomotives.
The need to develop an aviation strategy in Ireland that accommodates passenger growth and economic development is vital today. What we have is the exact opposite, airports are operating in isolation from one another, competing when they could be collaborating more profitably, weakening wages and eroding working conditions when they could be growing new services, new high paying jobs.
Irish airports carried over 37 million passengers in 2006. The scale varies enormously from the 21 million people going through Dublin to the 56,731 using Donegal's Carrickfin facility.
Of the 12 airports not one is registering a decline in passenger numbers, but all is not well. Dublin is an overcrowded facility, with inadequate public transport links, the future development of which is being stalled by Ryanair through their planning objections to a new terminal.
More strange is the Belfast example, a smaller city which has two facilities competing for passengers, and the Belfast International Airport at Aldegrove has now the prospect of new Aer Lingus Heathrow slots and London routes, while it was just over a decade ago that British Midland pulled its Heathrow routes out of Aldegrove, to widespread consternation.
Shannon and Cork airports used to be part of Aer Rianta, the Irish state owned airport development company, but a Fianna Fáil policy U-turn in the previous coalition sought to begin a break up and privatisation of the group, a process which is still in limbo, though the cost cutting and asset stripping goes on, such as the sale of the Great Southern Hotel Group.
Shannon Airport's own strategy needs to be examined. How could it charge Aer Lingus a landing fee of €8.50 per passenger when Ryanair were reportedly only paying €1 per passenger?
Also crucial has been the systematic dismantling of Shannon Development as a regional development agency, just at a period when the region needs to reinvent itself economically as old industries decline, just look at the amount of job losses in Cork last year.
Where is the thinking that in 1936 looked at green fields in Clare and saw a vision that could create thousands of jobs? Instead this month we have the debacle of Fianna Fáil in-fighting, hand wringing from the Greens but no vision, only excuses.
The wider Shannon region needs a long-term, balanced regional development plan, where its three airports – Cork, Kerry and Shannon complement each other. The island needs an aviation strategy that might see airports competing with each other, but more likely would see an end to beggar thy neighbour economics and an end to airlines playing off one airport against another and one workforce against each other.
More than 70 years since the bulldozers built the runway at Shannon, we need a return to the vision, innovation and risk taking that made the whole project possible in the first place.
Irish Airport Passenger
numbers 2006
Belfast City      2 million
Belfast International      5 million
City of Derry      348,481
Cork      2.7 million ('05)
Donegal      56,731
Dublin      21 million
Galway      250,000
Ireland West (Knock)      630,000
Kerry      384,995
Shannon      3.6 million
Sligo      1 million
Waterford      80,000

Total    37,050,207