23 August 2007 Edition
McLaughlin welcomes Aer Lingus dialogue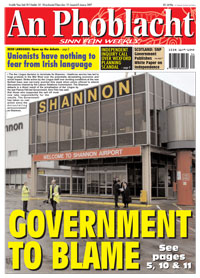 Sinn Féin Finance spokesperson Mitchel McLaughlin has welcomed the unconditional dialogue planned for Aer Lingus officials and pilots facilitated by the Labour Relations Commission and has re-iterated his call for pay parity on the island of Ireland.
 "This common sense approach by Aer Lingus opens the door for a resolution to this issue. I have previously stated that my party is critical of the attempt by Aer Lingus to introduce different pay structures for staff based at its new hub in Belfast", McLaughlin said.
"Aer Lingus management has attempted to present the demand of their pilots for existing terms and conditions to be honoured no matter what base the airline operates from as unreasonable.
"The attempt by Aer Lingus management to create pay and conditions that are different for its workers based in the North caused huge alarm across the island.
"Each and every member of society should be afforded a level playing field when it comes to workers' rights on the island of Ireland regardless of job.
"An All-Ireland approach needs to be taken by the upper echelons of Aer Lingus. Just as Sinn Féin opposed a regional differential for the minimum wage we will also oppose any attempt by companies operating across the island of Ireland to put in place differentiated pay and working conditions.
"Common sense must prevail and Aer Lingus must stop its laissez faire attitude to pay conditions.
"I continue to support these staff members just like any other worker regardless of pay scales. Workers' rights are paramount."
Last week as the controversy over the Aer Lingus decision to pull its Shannon to Heathrow route Sinn Féin National Chairperson and Dublin MEP Mary Lou McDonald met with party members in Leinster House to discuss the deepening crisis.
Following the meeting McDonald said government inaction since the Aer Lingus announcement was astonishing, both from a political and economic perspective. She said that the silence of the Taoiseach Bertie Ahern, while his Ministers and backbenchers "squabbled amongst themselves", was "truly remarkable".
"During last year's negotiation on the privatisation of Aer Lingus the government made much of a commitment to safeguard the national strategic interest by holding on to a 25.1% share hold in the company. Where is that commitment now when the tourism and commercial interests for the entire mid western region are under threat?', McDonald said.
"I understand that Aer Lingus operates a limited number of slots out of Heathrow and lease out additional slots to other carriers such as BMI & Delta Airlines. I see no reason why Aer Lingus could not have decided to utilise some of those slots to service the Belfast routes while preserving the Shannon service.
"Just as Sinn Féin opposed a regional differential for the minimum wage we also oppose any attempt by companies operating across the island of Ireland to put in place differential pay and working conditions. The attempt by Aer Lingus management to set a precedent of lower pay and conditions for workers based in another region of the country is of huge concern.
"Taoiseach Bertie Ahern must immediately take every step to ensure that this decision by Aer Lingus is reversed to ensure inward investment, tourism and indigenous business dependent on access to markets provided by Shannon/Heathrow route is not adversely affected.
"The Assembly and Irish government must work together to ensure equitable investment in all of the country's regions. Sinn Féin proposes the amalgamation of Development Agencies North and South working in conjunction with Intertrade Ireland in order to achieve maximum regional development for the island.
"The Taoiseach and Minister for Transport need to ensure that the national interest is safeguarded by using the Government stake in Aer Lingus to ensure the continuation of a Shannon - Heathrow service"  McDonald said.