12 July 2007 Edition
Schoolboy seriously ill after sectarian attack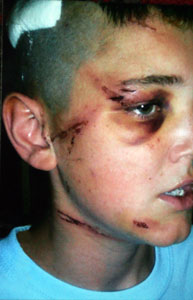 Despite the efforts of the North Belfast Interface Monitoring Group (NBIMG) to ensure a peaceful summer at Belfast's interfaces a sectarian attack has left a 15-year-old Catholic schoolboy seriously ill in hospital.
Niall Ferrin was savagely beaten by a five-strong loyalist gang consisting of men in their 20s and 30s, one of whom beat Niall with a golf club, on 29 June.
The schoolboy suffered a fractured skull in the incident and as he lay unconscious the loyalists tied a wire around his neck and dragged him along Clifton Park Avenue where the attack occurred.  
Niall was treated in the neurology ward of the Royal Victoria Hospital for a fractured skull and a hole in the side of his head and the latest news of his condition is that surgeons are trying to assess whether Niall's hearing and sight would return to normal.
Patricia Ferrin, Niall's mother, told the media that Niall was sitting at the park on Clifton Park Avenue with some friends when one of them noticed the loyalist gang emerging from a nearby entry.
As the friends tried to run away one of the loyalists struck Niall with a golf driver.
According to Ms Ferrin Niall was lying prone on the ground but the loyalists kept up their attack.
Ferrin went on to thank a Protestant women, who lives in the estate from where the loyalists launched their attack, for intervening to stop the assault. She said that the woman, "saved my son's life".
Meanwhile North Belfast community worker John Loughran is calling for calm at Belfast's interfaces.
Highlighting the North Belfast Interface Monitoring Group's campaign, 'Think B4 U Act' campaign Loughran called on young people to think about their actions, "as they might cause others harm or lead the young people themselves into danger".