12 July 2007 Edition
Interview : Sinn Féin Mayor of Athlone, Paul Hogan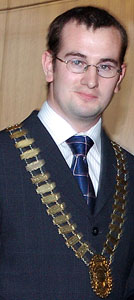 Athlone gets new, young Sinn Féin Mayor
The new Mayor of Athlone is Councillor Paul Hogan. At 24, he is believed to be the youngest ever Chairperson of Athlone Town Council and is also the first Sinn Féin member to hold the position.
Hogan, with the support of Fianna Fail councillors, defeated Councillor Mark Cooney, son of former Fine Gael Minister Paddy Cooney in the Mayoral vote.
Here, Paul Hogan talks to ELLA O'DWYER about his pride at being selected to represent the people of Athlone, his intention to carry out his Mayoral duties in a fair and impartial manner and about his passion for the Irish language and sport.
In 2003 Paul Hogan was asked to stand for Sinn Féin in the local elections the following year. He was just 20 years of age and had very little political experience. Sinn Féin structures in Westmeath were weak with only one cumann in Mullingar. Paul and others established another cumann in Athlone to organise the canvass from south of the county and to reap the potential benefits that might be gained there through the election.
At the local elections Sinn Féin support in the area increased by 550 per cent. "We got a huge amount of transfers – a thing the party hadn't seen before in the town. This saw myself ending up positioned seventh out of nine elected councillors after a long recount. We expanded our membership in the area then – now we've three cumainn and we're setting up an Ógra cumann", Paul says.
Paul stood as the Sinn Féin candidate for Longford/Westmeath in the general election in May.
"We got 2,136 votes. We ran a hard campaign. While I found it difficult enough travelling around the constituency campaigning, I was very honoured to represent Sinn Féin for Longford/Westmeath. I don't drive put my parents were a great support and drove me anywhere I wanted to go. I was at the vote until 2am in the morning and I saw the amount of transfers we were getting and we got a lot."
On the reason for the higher level of transfers, Paul says:
"We've a huge GAA connection. My father's family were from Toomevara a big GAA area in Tipperary. The Hogans were big GAA followers – a factor that helped quite a bit in terms of my getting elected in 2004. My grandfather founded Garrycastle GAA club in the town, my mother comes from Athlone and the fact that I was known in the town all helped."
The person Paul defeated for the position of Mayor was Fine Gael's Mark Cooney, the son of a notoriously anti-republican former Minister for Justice Paddy Cooney.
"I was the forerunner all the way through and Deputy Mayor last year. I also have a good working relationship with the other town councillors and the way I see it is that I'm in there to work for the benefit of all the people of the town in a fair and impartial manner. It all comes down to whoever is elected on the day."
A local newspaper recently wrote that Paul was the hardest working person on the council. On his expectations of the demands of the Mayorship, Paul points to the experience already gained as Deputy Mayor. He represented the town on RTÉ's Six One News last week.
"It was an interview about job losses in Athlone. Tomorrow I'll be announcing 150 jobs for the area with Micheál Martin. So already I've seen highs and lows after just one week in the job!"
On his intitial interest in Irish republicanism Paul says:
"I always had an interest in this country – in our language, our culture and our history. While studying history for the Leaving Cert I read a lot and I still study history at NUI Maynooth along with maths. I read a lot about Irish history and always questioned British imperialism in Ireland. I read books like Tim Pat Coogan's The Troubles, Beresford Ellis's Ten Men Dead. Reading was an extension of that questioning. I also read about 1916 and the likes of Liam Mellows.
"My uncle, Tony Hogan stood for the local elections in 1985.  I joined the Sinn Féin cumann in Mullingar in 1999 when I was 16 and in fifth year at school. Then we set up the Athlone cumann and I was also involved in the Sinn Féin cumann in Maynooth College where I held positions such as Chairperson, PRO and Treasurer. When I left the college about two years ago we had about 40 members with about 15 core activists.
"Conradh na Gaeilge was another factor. I feel we have a duty to preserve the language. I have Irish and used it in the opening of my inaugural speech as newly elected Mayor."
Asked whether at the young age of 24 he felt the idea of going about with a big chain around his neck for a whole year, and the responsibilities that come with it, a bit restrictive, Paul says it is a "huge honour".
"While I'm in the role I'm going to do my very best in the job. I also have to finish my degree at college and continue my council work. But I'm going to enjoy it. Then if selected as nominee for the next local elections I'll be happy to stand. I enjoy my council work. GAA is huge in my life. I played GAA football until I pulled a ligament in my knee. I'm also chair of a soccer team in Athlone.  I enjoy going for a run in the evenings. Sport factors large in my life  – cycling, swimming and fishing and I like travelling to places like Gweedore in Donegal.
Asked where he saw himself in another decade Paul says he would like to teach at Secondary level and, if the people so decide, he will remain a Sinn Féin elected representative.

An Phoblacht Magazine
AN PHOBLACHT MAGAZINE:
Don't miss your chance to get the second edition of the 2019 magazine, published to coincide with Easter Week
This special edition which focuses on Irish Unity, features articles by Pearse Doherty, Dr Thomas Paul and Martina Anderson.
Pearse sets out the argument for an United Ireland Economy whilst Pat Sheehan makes the case for a universally free all-island health service.
Other articles include, 'Ceist teanga in Éirinn Aontaithe', 'Getting to a new Ireland' and 'Ireland 1918-22: The people's revolution'.