12 July 2007 Edition
De Brún and McDonald call for postal services rescue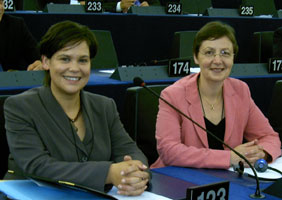 Speaking this week as the European Parliament debated the liberalisation of postal services across Europe, Sinn Féin MEPs Bairbre de Brún and Mary Lou McDonald have said the Parliament plan to delay by two years the opening of the letters market amounted to no more than a temporary reprieve.
"A worsening of postal services in Ireland and further unrest among postal workers is on the cards if the report before the European Parliament today is voted through. While workers and consumers may take some cold comfort from the two-year delay on implementing these proposals, the reality is that postal services and working conditions for postal workers will get worse under these proposals. We need only look to the situation in the North or in Britain to see the pressure put on the delivery of a universal service where the postal market has been fully opened to competition", de Brún said.
"Royal Mail frequently cites the pressures of competition for providing less of a service and, during the recent and ongoing postal workers' action, Royal Mail has failed to reach agreement on pay and on dealing with major change and with the impact of competition in the postal sector", she said.
Mary Lou McDonald said: "Across Ireland rural and isolated communities are dependent on a postal service delivering letters regardless of profit motives. The EU Commission's attempt to commercialise the delivery of letters is a dangerous and foolish move for which villages and rural communities across Ireland will pay dearly. Workers in the postal service are rightly worried by the EU's targeting of their livelihood through privatisation.
"A two-year stay of execution will mean little if the ultimate end-goal remains the commercialisation and the consequent exclusion of many communities from a service they have enjoyed for generations."