5 July 2007 Edition
International : Nestlé-Free Week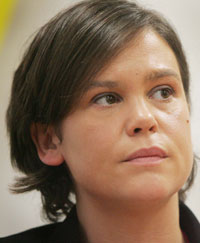 Sinn Féin supports Nestlé boycott
BY SALLY GALLAGHER

Kit-Kat, Nescafé, dairy products... You may not realise it, but when you buy these brands you are consuming Nestlé products, and while doing so endorsing a corporation with a record of misuse and mistreatment of children and babies; a company that prioritises profit over the health and wellbeing of infants.
For years, Nestlé has been pushing formula milk into health care services in developing countries through payments to doctors and nurses. The company did not care whether the parents of the babies introduced to their formulas could afford it or even whether they had access to clean water. Babies have died as result of Nestlé corporate greed.
Save the Children's report on the baby-milk industry reckons that the total value of baby-milk and baby-food imports is worth almost €24m a year in Bangladesh alone - but the potential, if more mothers were bottle-feeding, is a lot higher than that.
In Colombia, Nestlé have used tactics similar to those of Coca Cola to keep unions away from their factories. These are not things of the past. As boycott groups in Africa, Asia, Europe and North America started their  International Nestlé-Free Week (2-8 July) Nestlé is still using the same kind of 'marketing' approach to 'consumers' in poor countries.
Speaking ahead of this week's International Nestlé-Free Week, Sinn Féin MEP for Dublin Mary Lou McDonald has condemned Nestlé for continuing its practice of pushing formula milk products on vulnerable mothers in developing countries.
McDonald said: "According to the World Health Organisation (WHO) 1.5 million infants die globally because they are not breastfed. If a child is bottle-fed where water is unsafe he or she is 25 times more likely to die from diarrhoea than a breastfed child.
"Over 25 years ago a marketing code, the International Code of Marketing of Breastmilk Substitutes, was introduced to regulate the marketing of breast milk substitutes. Despite this provision companies such as Nestlé continue push their formula products on vulnerable mothers.
"Just last month Nestlé Head of Corporate Social Responsibility for Britain defended the company's marketing activities in Bangladesh where marketing material for baby-formula was distributed directly to Mothers and Health Care workers, claiming the code allowed the company to do so.
"However a number of articles within the code are very clear that there should be no promotion of breastmilk substitutes to mothers within the health care systems and specifically that branded company materials cannot be distributed to health workers for passing on to mothers.
"This is simply a case of defending the indefensible. Sinn Féin calls on the Irish people to support Nestlé-Free week by boycotting all its products. Ethics in business wherever it is conducted should be the cornerstone of every company's activity, be it in Bangor, Bangladesh or Ballymun."
The Nestlé Free Week is only one of the many manifestations of the boycott, launched on 4 July 1977. The boycott was prompted by concern about the company's marketing of breast milk substitutes (infant formula), particularly in less economically developed countries (LEDCs), which contribute to the unnecessary death and suffering of babies, largely among the poor.
There are three problems that are said to arise when poor mothers in Third World countries switch to formula. First, formula must normally be mixed with water, which is often contaminated in poor countries, leading to disease in vulnerable infants. UNICEF estimates that a non-breastfed child living in disease-ridden and unhygienic conditions is between six and 25 times more likely to die of diarrhoea and four times more likely to die of pneumonia than a breastfed child.
Second, many poor mothers use less formula powder than is necessary, in order to make a container of formula last longer. As a result, some infants receive inadequate nutrition from weak solutions of formula.
Third, breast milk has many natural benefits lacking from formula. Nutrients and antibodies are passed to the baby while hormones are released into the mother's body. Breast-fed babies are protected, in varying degrees, from a number of illnesses, including diarrhoea, bacterial meningitis, gastroenteritis, ear infection, and respiratory infection. Breast milk contains the right amount of the nutrients that are essential for neuronal (brain and nerve) development. Frequent and exclusive breastfeeding can also delay the return of fertility, which can help women in developing countries to space their births. The World Health Organisation recommends that, in the majority of cases, babies should be exclusively breast fed for the first six months. UNICEF alleges that, if every baby were exclusively breastfed from birth to six months, an estimated 1.3 million additional lives would be saved each year.
However, and despite the existance of a code that regulates the marketing of formula milk that was drawn up in 1981 and ratified by member states of the World Health Organisation and that bans the promotion of breast-milk substitutes and gives health workers the responsibility of advising parents, Nestlé practices remain the same. Nestlé still supports the distribution of free powdered formula samples to hospitals and maternity wards; despite the knowledge that after leaving the hospital, when the formula is no longer free but because the supplementation has interfered with lactation, the family has not choice but to continue to buy the formula. The International Baby Food Action Network IBFAN also believes that Nestlé uses "humanitarian aid" to create markets, does not label its products in a language appropriate to the country where they are sold, and offers gifts and sponsorship to influence health workers to promote its products. Of course, Nestlé denies these allegations.