5 July 2007 Edition
The Mitchel McLaughlin Column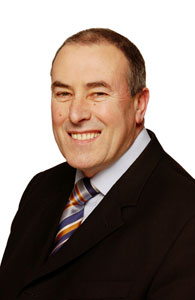 Coping with Climate change
Hardly a day passes without an article or news report about climate change and what is required to counteract its negative effects or the measures we will be required to adapt to the changing environment. Climate change is widely accepted as the most problematic issue facing governments today, as geographical borders are no protection against its advance. The most obvious and visible affect of climate change locally is the increased incidence of widespread flooding witnessed in many parts of Ireland and Britain over recent years. We have also experienced a slight increase in the average temperature which if it continues will see these problems exacerbated unless we devise measures to counteract them.
The most important area to require careful consideration to reduce flood risk is in planning new developments. Where possible, building on the flood plain should be avoided and regulations put in place requiring developers to upgrade sewage and drainage systems that will be capable of coping with the additional pressures created by new developments. Developments built on or in close proximity to the flood plain should have a regulatory requirement to ensure the maximum protection against flooding by retaining sufficient green areas including parks to contain floodwater.
As we have seen in the recent past in Belfast a particular area of concern is that of sewer flooding: existing systems are clearly not capable of containing the effects of these frequent floods and are urgently in need of upgrading to cope with the increasing frequency of severe rainstorms.
Government attitudes to the demands of developers would appear to be predicated on the fear of a slump in potential political fundraising sources than on ensuring that society is protected from the most serious effects of climate change. It is disappointing therefore that the Green Party in the 26-counties put the lure of power above an opportunity to join with others in opposition to hold the government to account on those environmental issues that it purported to be fundamental to their Green credentials.
The Green Party went in front of the electorate claiming to be the custodians of our cultural and environmental heritage but since being subsumed into the Fianna Fáil dominated government it seems that the comments of their spokespersons, prior to the election, in opposition to projects such as the incinerator in Dublin and the M3 motorway were just another example of climate change only the hot air was coming from the Greens.
Some degree of climate change is inevitable. However, it is only concerted action by a strong opposition intent on holding government to account on its obligations to environmental protection in all its aspects that will ensure we curb the effects that we have been experiencing of climate change and limit the consequent increased flood risk. It is also imperative that pressure is maintained on the Government to put every effort into achieving global action to address the causes of climate change.
An Phoblacht Magazine
AN PHOBLACHT MAGAZINE:
Don't miss your chance to get the second edition of the 2019 magazine, published to coincide with Easter Week
This special edition which focuses on Irish Unity, features articles by Pearse Doherty, Dr Thomas Paul and Martina Anderson.
Pearse sets out the argument for an United Ireland Economy whilst Pat Sheehan makes the case for a universally free all-island health service.
Other articles include, 'Ceist teanga in Éirinn Aontaithe', 'Getting to a new Ireland' and 'Ireland 1918-22: The people's revolution'.