28 June 2007 Edition
Dáil : Morgan ordered out of Leinster House in speaking rights row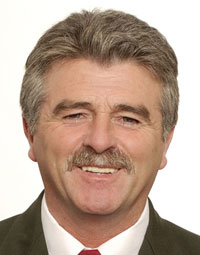 Sinn Féin protests the gagging of its TDs
Sinn Féin Dáil Leader Caoimhghín Ó Caoláin TD has called on the Taoiseach to amend Dáil Standing Orders to allow a Technical Group be formed by the four Sinn Féin TDs and Independent Tony Gregory.
Speaking at a protest outside the Dáil Tuesday, at the attempted gagging of the Sinn Féin Party in Leinster House,  Ó Caoláin said 143,410 voters gave their first preference votes to Sinn Féin in the general election and these voices must not be silenced.
 Ó Caoláin said, "The Government has so far refused to amend Standing Orders to allow a technical group to be formed by the five opposition TDs outside of the Labour and Fine Gael Parties. Current Standing Orders dictate that seven TDs are required to form a technical group. However, in the last Dáil, the Green Party called for Standing Orders to be changed to allow five TDs to form such a group. And, during the negotiations for Government, Finian McGrath said that one of his priorities would be to ensure adequate speaking rights for all TDs and there was no way he would 'hang the technical group to dry' and that the Greens agreed with him.
"If a technical group cannot be formed speaking rights in the Dáil will be seriously curtailed for the Sinn Féin TDs and Tony Gregory. But, most importantly for the Taoiseach, he will not have to face leader's questions from Sinn Féin in the Dáil. The Taoiseach clearly sees the attempted marginalisation of Sinn Féin as the icing on the cake of his deal with the Greens and the so called Independents.
"I am calling on the Taoiseach to re-think his decision not to amend the Standing Orders. Sinn Féin TDs, just like all TDs, are elected by the people of this State and are entitled to speak on their behalf in the Dáil. As long as we are elected to this Dáil we will not be silenced."
Later in the Dáil on Tuesday the Sinn Féin TDs raised the issue of speaking rights. Arthur Morgan pointed out that under current rules "one Deputy constitutes a party for party leaders' fund, two party members is a sufficient quota for committee members and the recognition of a whip but it takes seven party members to obtain speaking rights in debates and Leaders' Questions.
"Will the Taoiseach alter Standing Orders to facilitate Members to have an opportunity to represent those people who sent them here?"
When he persisted and refused to sit down the new Ceann Comhairle John O'Donoghue ordered him to leave the House.