21 June 2007 Edition
The Mitchel McLaughlin Column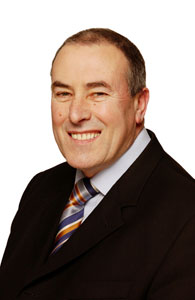 Promoting women in Politics
Is the under-representation of women in elected office a reflection of a patriarchal society refusing to provide for the special circumstances required to allow women to juggle other responsibilities with those of public representation? I believe that it is.
All of the parties on the island have publicly subscribed to the notion of promoting women in politics but if it is to progress, firm action must be taken. It is approximately two years before expected local government elections in the 26 Counties and possibly in the Six Counties also. European elections are also due in 2009 and I believe that if parties are serious about redressing the imbalance of women in elected office then measures should be put in place now to ensure that the gap in the gender balance is bridged.
Political parties can of course assist in this project by ensuring that female candidates are selected in winnable seats. Women, although heavily involved in the Community and Voluntary sector and in the administrative side of most political parties are still not properly represented in national, regional or local government politics.
In Ireland as a whole women make up 51% of the population, yet in the North only 16·7% of MLAs – 18 out of 108 members – and 21·3% of local councillors are women. In the South only 13% of TDs – 22 out of 166 – and only 15% of elected councillors are women. All of these women have been elected because of their individual efforts and abilities and often in spite of a lack of commitment from male colleagues.
In order to achieve an increase in the number of women candidates it will take encouragement and far reaching vision by the male comrades. It will also require a genuine commitment to equality. Furthermore, decisive action by government is needed to ensure that the proper support facilities are in position that will allow women to fully participate in the structures of government.
Political parties should engage with women's organisations to encourage, support and enable women to become more involved in political life. All political parties have a responsibility to ensure that more women are elected to all levels of government structures. Strategies need to be devised now if we are to increase substantially the number of women candidates who will successfully contest the next local government and European round of elections and future Dáil and Assembly elections.
More women in elected positions of power can only enrich our system of public service and the development of society in general. It is imperative that we utilise every mechanism possible to assist and encourage male members of political organisations to recognise these positive outcomes.
The under-representation of women in politics and public life in general has a negative impact on society as a whole. Women constitute a diverse group with many talents, life experiences and positive attributes to bring to the world of politics. An Ireland of equals is only possible if we first embrace the principle of gender equality.