7 June 2007 Edition
An Post work stoppage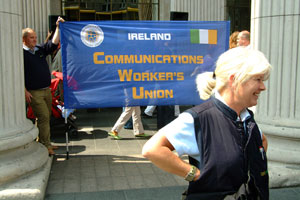 Post offices across the 26 Counties closed for an hour at lunchtime on Wednesday as part of an EU-wide protest against plans by the European Commission to open all of An Post's business to full competition.
The Communications Workers Union said it believed the Commission's plans will lead to a reduction in postal services, particularly in rural Ireland, while competition will flourish in the cities - leading to a two-tier service.
An EU-wide umbrella group, UNI-Europa Postal, called for support of a petition opposing the liberalisation of the postal service.
Sinn Féin Kerry North TD Martin Ferris expressed his support for the one-hour stoppage by postal workers, which was organised by An Post unions as part of a Europe wide action.
"Sinn Féin is totally opposed to any move towards privatisation of the postal services. There is no rationale behind it other than to create new profit making opportunities for corporate business, and it will bring no benefits to users of the service," Ferris said.
"Such a proposal flies in the face of the historical experience and rationale for public control of the postal service and public utilities. The reason they were taken into public ownership in the first instance was that private enterprise was unable, or uninterested for economic reasons, to properly provide these services. Now generations of public investment and success are to be sacrificed to provide niche markets for private interests who will be unable to provide the same level of service.
"I call on the Irish Government to oppose this proposal on the grounds of the harm that it will do to the Irish postal service and to the fabric of Irish communities, which will be further eroded as part of the ongoing withdrawal of public services, especially in rural areas," he said.