7 June 2007 Edition
A shared future : British government proposal flawed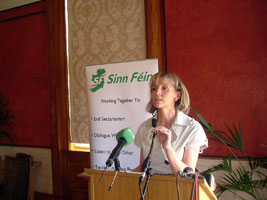 There's still only one rabbit    
MARTINA ANDERSON MLA takes LAURA FRIEL through the debate around A Shared Future

Sinn Féin is absolutely committed to a shared future but we are not prepared to accept rhetoric without substance. That was the message Martina Anderson took to the Assembly Chamber this week in a debate about the British government's policy document A Shared Future.
"The British government's Shared Future proposal, while perhaps well meaning, is fundamentally flawed and if implemented in its present form would result in an outcome at odds with its stated intentions," says Martina.
Speaking in the Assembly the Derry MLA said Sinn Féin had accepted its responsibilities as a priority to build a shared future and was also committed to exploring with unionists their views on how and on what basis that shared future could develop.
"It must be a top priority to get an agreed way forward on a shared future within the framework of our already agreed legal and policy commitments and this will not be brought about through simply endorsing administrative policy documents but through using the existing political process," says Martina.
The British government's strategy A Shared Future flows from the particular analysis of the Community Relations Council. The CRC prioritise notions of individual intolerance as the primary dynamic behind sectarian division while largely ignoring structural inequality.
This analysis is at odds with the undertaking of the Good Friday Agreement and Section 75. This equality duty on policy makers recognises the primacy of equality. In other words the Agreement recognises that good relations will only flow from the achievement of equality and not the other way around.
"Sinn Féin is concerned that the shared future strategy as currently stated defines the primary problem as a lack of tolerance between communities and places that primacy over the obligations of the 1998 Act and the commitments of the St Andrews Agreement to tackle disadvantage on the basis of objective need," says Martina.
"The CRC strategy is underpinned by a notion which is inadequate to the task. It's no coincidence that the British Exchequer's preferred option is changing attitudes rather then changing lives. It's a lot cheaper," says Martina.
The problem with the current framework is that it ignores established, empirically based principles such as 'equality' and 'objective social need' and replaces them with 'perceptions' such as 'alienation'. This undermines the ability to set goals and evaluate outcomes because the underlying determinants of the strategy are themselves subjective.
"This is wide open to manipulation and could easily collapse into delivering the perception of change rather than real, demonstrable change. Unionists have initially been attracted to the Shared Future framework because it appears to undermine funding flowing into the most deprived areas, the majority of which are Catholic/nationalist," says Martina.
"But it is a precarious strategy because once you allow the British Exchequer to deliver the 'appearance of change' rather than 'real change' both Protestant and Catholic areas lose out. In other words development becomes primarily a PR exercise. The British government wants us to feel better without the expense of making a real difference in our lives," says Martina. 
"Last year British ministers repeatedly announced the same funding initiative in different ways, at different times and places. Appearing to do a great deal on the back of doing very little. As my late colleague Michael Ferguson once said, the conjurer may produce a rabbit out of a hat during every show but there is still only one rabbit," says Martina.
By avoiding 'equality' and 'objective social need' the strategy sidesteps one of the main dynamics behind sectarian division. Sectarian discrimination and inequality played a pivotal role in fuelling conflict and addressing these issues are pivotal in bedding down the peace.
"Addressing inequality is a determining dynamic in the quest to end sectarian divisions. By setting aside equality issues, the proposed A Shared Future strategy is a misguided distraction," says Martina.
The strategy fails to acknowledge structural inequalities and the operation of the state, both the old Stormont regime and British Direct Rule, as a major engine fuelling sectarian division. Instead it places primary responsibility for sectarian division with those communities who have suffered from the consequences the most.
"Its vision is closer to separate development, with different strategies and goals for Protestant and Catholic areas, reinforcing the very boundaries we're all committed to tearing down. In other words it proposes a kind of social development apartheid," says Martina.
"In parts of Belfast, the strategy proposed by the British government's Shared Future proposal is already being use as a rationale to deny housing to the homeless.
"In nationalist areas of North and West Belfast there is a massive housing shortage resulting in increased homelessness and overcrowding. Families are enduring difficult conditions and lengthy waiting lists.
"Their social need is demonstrable and yet the solution, the building of sufficient social housing, is being thwarted by misplaced priorities set by the Shared Future proposal.
"The notion of a Shared Future is being used as a rationale to limit the building of desperately needed social housing on the basis that nearby unionist communities need "neutral space" in the interests of "good relations".
"In other words the Shared Future proposal is being used in a way totally at odds with its stated objectives by reinforcing divisions and embedding inequalities, in this particular case, within housing provision," says Martina. 
"In questioning the proposal, Sinn Féin is not rejecting a real shared future, we're defending it. We want real strategies based on facts and figures, underpinned by an adequate budget, with agreed goals and demonstrable outcomes," says Martina.