7 June 2007 Edition
Second Rally to demand Irish Language Act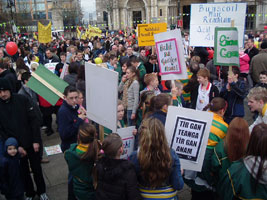 A second rally to demand a rights-based Irish Language Act has been organised by Irish language activists for Saturday, 9 June in Belfast.
Since the first march, which took place in February, the situation has become a political football for unionists. The first Department of Culture, Arts and Leisure consultation process finished with 93% of submissions received in favour of a strong, rights-based Irish Language Act.
Despite this feedback, Maria Eagle, the then British direct rule minister, announced that a second consultation process would be held. This ended on Tuesday, 5 June.
The voices of Irish speakers must be heard. The   march on Saturday, 9 June, will make this point.
The Sinn Féin Culture Department urges everyone to attend this rally for an Irish Language Act.  It is the duty of every political party on this island to stand with the Irish language community and demand their rights.
It is important that a rights-based Act is the outcome of the second consultation, with adequate funding, a powerful oversight commissioner and provisions for the Assembly, councils etc.  Legislation is needed such as that enjoyed in the 26 Counties, Wales and Scotland. This was promised in the St Andrews Agreement.  
The rally will assemble outside Cultúrlann Mac Adaim Ó Fiaich on the Falls Road at 1pm. Please attend and show your support for the Irish language.