31 May 2007 Edition
In for the long haul as Dublin Mid West bucks trend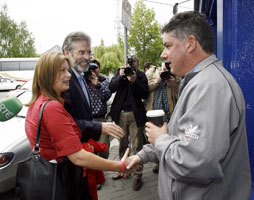 BY ELLA O'DWYER
Listening to the radio as I made my way by taxi to the Lucan Sports and Leisure Centre complex for the Dublin Mid West election count last Friday, it was becoming increasingly clear that Sinn Féin was not going to meet its expectations. However, the prospect of Michael McDowell losing his seat looked promising. "Sure isn't that a great consolation in itself?", the taxi driver commented.
The mood amongst Shinners at the Dublin Mid West count was positive. We hadn't won the seat but with Joanne Spain as candidate, Sinn Féin had doubled its vote since the last general election rising from from 1,700 votes to 3,400 first preferences.
The election team spoke of a terrific campaign with up to 20 people knocking doors every night. They also spoke warmly of the calibre of the candidate, how Joanne engaged with the electorate and her positive and natural style at the doors.  They had all worked flat out and had every reason to be proud of their performance. There was a definite consensus amongst the election team that they were in for the long haul and as one woman put it – "The next election campaign starts tomorrow."
And that was precisely Joanne's take on things.
"I'm happy with the result. I'm disappointed of course that we didn't take the seat but I'm happy in that here in Dublin Mid West we bucked the trend that saw the smaller parties being squeezed and we increased the vote significantly. We've put our name on the seat for the next time – we've made our mark and we hope to take a second seat at the next local elections.
Brilliant campaign
"We ran a brilliant campaign. We put everything into it. We'd people down from Belfast and we'd local people out in their droves. But as a young person I find it disappointing that we still have the Fianna Fáil/Fine Gael monopoly in Ireland – basically civil war politics. There's no difference between those two parties. I hoped people my age would have moved away from that. But I'm a republican and I'll always be one and as long as it takes me to get that seat I'll stick at it. I'm going to be at this until we have our goal of a united Ireland with politics based on equality."
As John Curran of Fianna Fáil became the first TD elected to the 30th Dáil – deemed elected just after two o'clock, the prospects for the Progressive Democrats were looking increasingly poor and just a few hours later Michael McDowell announced his resignation. I was talking to one gentleman who described him as "a friend of Mary Harney's" and he expressed disappointment at her vote along with a kind of vague relief that she took a seat at all.
I caught another taxi back from Lucan and this time the driver was definitely not a Shinner. Maybe he was in the PDs because he wasn't in great form either.  After a rather lively debate during the 'long haul'  back into the city centre he did concede that we'd have another day – "See you in another five years", he said. We might face a few more long hauls before we get the results we want but as one veteran republican often says – "The revolutionary must learn to wait."