31 May 2007 Edition
Determination to fight back is stronger than ever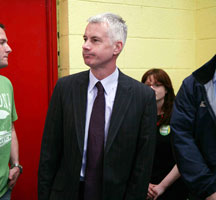 BY CAOILFHOINN Ní DHONNABHÁIN
As tallying got under way at the Dublin South West count centre in Tallaght on Friday morning it soon became clear that Sinn Féin TD Seán Crowe would be struggling to retain his seat. Votes cast in the constituency favoured the candidates of the outgoing government – Conor Leinihan and Charlie O'Connor of Fianna Fáil and the so-called alternative – Brian Hayes of Fine Gael and Pat Rabbitte of Labour.  There is no down-playing the shock of that realisation for all of us who had worked on the election campaign.  As tallying neared completion it was clear that the seat was lost.
News soon began to come through that many other candidates in target constituencies across the state were not fairing much better.
Seán Crowe had contested elections in Dublin South West since 1989.  He was elected to South Dublin County Council in 1999. Having come close to winning a Dáil seat in 1997 he succeeded in 2002. In the last Dáil Seán was Sinn Féin spokesperson on a number of key social issues including Social and Family Affairs and Education.  As transport spokesperson he played a key role in working with the unions in the campaign against the privatisation of Aer Lingus.  In the Dáil he was vocal on issues of poverty, disadvantage and deprivation – the issues that effect many of his constituents in DSW who have been left behind in spite of the affluence brought to some quarters by the Celtic tiger. His absence will be felt by the Sinn Féin team in Leinster House.
Knowing the work being done by Seán and Councillors Cathal King and Mark Daly, the significance of the failure to garner sufficient votes in places such as Killinarden and Fettercairn should not be lost on anyone.  The party must consider this issue.   Those who in the past voted for us because we were different   did not all stay with us this time. We have much to lose and little to gain from seeking to be like the other parties that crowd the centre.    While we work for our communities through the clientèlist system we must present a clear vision of what we are about in socio- economic terms.  We must enable people to envision our republic. We must have the courage to be different to other parties and be ready to confront the ideological wrath of those opposed to any form of fundamental social change or wealth redistribution.
We have many questions to ask ourselves – how do we ensure that the communities we represent buy into our project for political, social and economic change?   Only when we do this can we ensure that we are not open to being squeezed in future elections.
At the end of the count newly elected Fianna Fáil TD's Conor Lenihan and Charlie O'Connor along with Seán and Green Party candidate Elizabeth Davidson addressed those remaining in the count centre.  As Lenihan spoke of the election as a victory for democracy and images of those such as Michael Lowry topping the poll in Tipperary North came through on the poor reception on a TV  at the back of the centre it felt like anything but that. It felt like a victory for gombeenism.
Seán Crowe was magnanimous and dignified in defeat. He thanked Sinn Féin voters for their support. He thanked his election team and in particular he thanked his wife Pamela.  He reminded the winning candidates of the issues across Dublin South West that they would have to deliver on.  In interviews he rightly asserted that Sinn Féin was correct not to engage in auction politics.
As party members and supporters gathered in Molloy's pub in Tallaght village after the count it was clear that though people were down they were in no way defeated. Already, only hours after the count had ended, there was a sense that we would fight back.  We would pick ourselves up, dust ourselves down and come back and fight again stronger and more determined than ever.