31 May 2007 Edition
Interview : Sinn Féin President Gerry Adams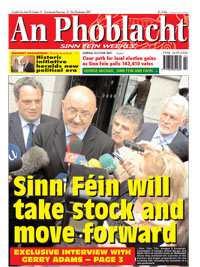 Take stock, move forward
Following a disappointing general election for Sinn Féin, party President Gerry Adams speaks to An Phoblacht, giving his views on the results, the campaign and on the lessons Sinn Féin needs to learn to get back on track in the 26 Counties.


What is your response to the outcome of the General Election campaign?
Obviously like every other republican I am disappointed at the outcome of the election and the fact that we did not make the gains, which we had been working towards for several years. I want to commend all of our candidates and activists who worked so hard and to thank everyone who came out and voted Sinn Féin. I also want to commiserate with Seán Crowe and his wife Pamela.

Why do you think we did not make any break through in this election?
I think that we went into this election in a strong position and in the first two or three weeks of the campaign hit home with our focus on the need for strong public services, equality and Irish unity and on setting out that we were ready to be in a government that would deliver on these priorities. But ultimately like many of the other parties we were squeezed when the election became a referendum on who would be Taoiseach. But in any analysis we need to look at the full picture and examine the reasons why, even in these circumstances, some constituencies advanced and came within a handful of votes of taking a seat and others slipped back. We also need to analyse our political message and our electoral strategy. The party leadership began this work at a daylong meeting in Dublin on Monday.

Do you think there was any decisive moment, which turned the campaign?
I don't know if there was any one particular moment either for Sinn Féin or for the other parties but it is clear that the campaign changed dramatically in the final days, particularly when the debate turned to the economy. Brian Cowen had a decisive influence. My view is that this was always going to be a difficult election for us. We did go in better prepared than ever before but it was obvious that the establishment parties and media were seeking to make us irrelevant when it came to the formation of the government. We succeeded in making ourselves relevant until the election came down to a referendum on Bertie Ahern. It was then a contest between him and Enda Kenny. Everyone else lost out. But we need to look at all of this and I don't want to pre-empt any discussions, which will take place within the party.

What was the outcome of leadership discussions earlier this week?
On Monday the national Officer Board, incoming TDs, some of our Ministers and representatives from the Assembly and some key personnel from across the country met to begin the work of analysing the outcome of the General Election campaign and to start discussions about what needs to be done between now and the Local Government and European elections in 2009. Rita O'Hare and Pat Doherty have been put in charge of producing both a critique of the Sinn Féin election campaign and a broader analysis of the General Election and the failure of Sinn Féin to make advances. The Ard Chomhairle will be meeting on Saturday, 9 June and internal party meetings will be held in the coming weeks.
It is important that space is allowed for everyone within the party to participate in this discussion but this period of internal analysis should not be unnecessarily protracted.
As well as this formal review I would encourage anyone who wishes to, to write to our National Election department at Ard Oifig.
The focus of these discussions, in learning lessons and how to correct mistakes, must be to agree on how we advance the cause of republicanism in the 26 counties. There needs to be a consensus on how this can be accomplished and a consensus also on the nature of social and political forces in this state.
We need to do things differently from here in. There is a great deal of goodwill toward Sinn Féin, not least because of our work on the peace process and the recent breakthrough with the DUP. But people respond to the political conditions in which they live. That's what shapes their view. Our job is to make republicanism relevant to people in their daily lives, wherever they live – which means building local and regional programmes and structures capable of doing this.
The election, despite the disappointing result has brought thousands of people out to work for Sinn Féin.
We need to build structures to keep those people working with us. We need to develop republican programmes, which rally the broad mass of people behind republican goals.
We need a shared analysis as to what happened but we also need to be looking to the future. What we are trying to do on this island is huge and unprecedented. We have a historic mission, which goes well beyond these elections and in order to achieve our objective of Irish re-unification we need to build the party in two jurisdictions and increase both our political and our electoral strength. This will throw up huge challenges, which we need to deal with.

What happens next?
In analysing the results we need to acknowledge that there were very high, and in most cases totally unrealistic expectations about seat gains. On a very good day Sinn Féin could have made these gains but this would have meant many of our candidates doubling their votes. In reality, based on figures from the last elections, in my view we were in line only to make one gain. Of course on a good day I was hoping for seven or eight seats overall. In fact we won no extra seats and lost one.
At the same time our vote went up by more than 20,000 votes and in places such as Donegal, parts of Dublin, Cork and Wexford we did extraordinarily well and are poised to substantially increase our representation at the local government elections in 2009. But none of this will happen by chance. We need to get back to what we do best – campaigning and organising and building political strength. You only have to look at the policing debate. We also should not underestimate the huge effort and energy invested by the party on this issue. At the same time the campaign around healthcare which the party led over the last twelve months also shows what can happen when we work together.

Who do you think will form the next government?
People engage in politics, in elections, for two reasons. In their own self-interest, which is entirely legitimate, and/or for a big idea. In this election self interest was served by a desire for 'stability' and no change and the big idea was the economy. So I think at this stage it seems likely that Bertie Ahern will lead the new government – though you can't be sure.
But for me it is not who will form the incoming government but what are the issues that will top the political agenda. Because regardless of whether it is Fianna Fáil or Fine Gael which leads the government do you think either of them has the capacity or interest to really address the problems facing people the length and breadth of this state in terms of healthcare, housing, or education? Do you think any of them will promote equality or Irish unity?
Our job, in government or in opposition, is to ensure that these issues are put on the agenda, our job is to build political and electoral strength, our job is to show people that genuine republicanism can provide the core values for a just and fair society. We also need to prove that we can bring the same skill and determination to addressing challenges here as we did in advancing the peace process. The fact is that Sinn Féin is the engine for change in this country. Without us there will be no further momentum towards a united Ireland or towards equality and justice. We have a huge amount of work to do in the time ahead but we are up to the challenge.