17 May 2007 Edition
INO conference : Sinn Féin TD expresses total solidarity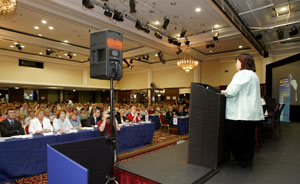 'Withdraw threat to cut nurses' pay' — Ó Caoláin
Speaking at the Irish Nurses Organisation Special Delegate Conference in Dublin on 10 May, Sinn Féin Health spokesperson Caoimhghín Ó Caoláin TD said the threat by the Health Service Executive to deduct 13% from nurses' salaries is "absolutely outrageous" and only serves to pour petrol on the flames of an already prolonged and very difficult dispute.The Cavan/ Monaghan TD expressed his "total solidarity and support, and that of Sinn Féin" for the INO and PNA in their campaign for a shorter working week and improved pay.
Addressing hundreds of INO delegates from throughout the state, Ó Caoláin stated:
"The threat by the HSE to deduct 13% from nurses' salaries is absolutely outrageous.  The threat was clearly made to try to force your hand in advance of this special delegate conference.  It is pouring petrol on the flames of an already prolonged and very difficult dispute. It is worthy of the tactics of William Martin Murphy and the Dublin employers in 1913.  You are right to treat this threat with the contempt it deserves.
"The Minister for Health and Children Mary Harney and the Taoiseach Bertie Ahern should intervene immediately and order the HSE to withdraw this disgraceful threat. But that is probably expecting too much from this minister. Indeed, the detioration of the dispute in this way highlights the Pontius Pilate attitude of Minister Harney and the Government to the nurses and to the crisis in our public services.
"The term of office of the Fianna Fáil/PD Government has ended with chaos in the health services.  The crisis in A&E departments continues. MRSA is endemic in our hospitals.  The talks on a new contract for hospital consultants are deadlocked. The Government and the HSE publicly disagree on the number of new hospital beds we need.  And the nurses have been forced into a work-to-rule.
"If we are to transform our health services then you in the front-line healthcare workers must be centrally involved.  This can only be done if we ensure that you are properly remunerated and enjoy proper working conditions.  Better care for patients and better working conditions for nurses are inextricably linked.  The attempt by Minister Harney to present your protest action as directed at patients is deplorable. In my experience patients are fully behind you because they know that your welfare is their welfare."
Ó Caoláin also called on the leadership of the wider trade union movement to support the nurses.