17 May 2007 Edition
Miscarriage of Justice : one of many under Diplock system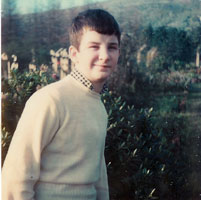 McMenamin vindicated
Charlie McMenamin was questioned illegally, beaten during interrogation and convicted in a non-jury court. Crucial alibi evidence was suppressed and the 16-year-old was bullied into signing a false confession and pleading guilty. While in detention fear and despair drove the Derry teenager to attempt suicide.
In 1980 McMenamin was convicted in a non-jury Diplock court of conspiracy to murder British soldiers and jailed for three years.
Last week Belfast's Court of Appeal finally quashed McMenamin's conviction. The case had been referred by the Review Commission, set up to investigate possible miscarriages of justice. Three judges declared a "sense of unease" about the conviction and upheld the appeal.
The McMenamin case is one of a number of cases involving forced confession evidence and the Diplock court system where false convictions have been recently overturned. Other cases have included the conviction of Raymond McCartney, Eamon MacDermott also from Derry and John Boyle from Belfast.
During the McMenamin appeal hearing the court heard vital evidence that was not put before the court during the original trial 27 years ago. The evidence revealed that on the day the schoolboy was alleged to have been involved in a gun attack, McMenamin was in a juvenile training centre after running away from home.

Rules broken
Prior to the 1980 trial, on the basis of this evidence an official for the Director of Public Prosecutions decided that all charges against McMenamin should be dropped. The RUC in Belfast and Coleraine were informed of the DPP's decision by letter but the directive was not communicated to the Crown prosecutor and the trial went ahead.
Speaking at the Appeal, barrister Eilish McDermott told the court that rules had been broken when the teenager was interrogated alone over a three-day period. McMenamin was a juvenile and the law required a parent or solicitor to be present.
McDermott told the court that at the time the teenager had told a doctor that the RUC had kicked him and he had only signed a confession to avoid further mistreatment. Appeal Judge Campbell said it was appropriate to announce immediately that the convictions should be quashed.
Commenting Sinn Féin MLA Raymond McCartney, himself a victim of a miscarriage of justice, said the case highlighted the injustices of the Diplock system.
"Apart from the jail sentence Charlie also accrued a record which has hindered him in finding meaningful employment as well as other impediments. The Appeal Court decision is a vindication of Charlie's campaign to have the conviction quashed," said the Derry MLA.