17 May 2007 Edition
The only real alternative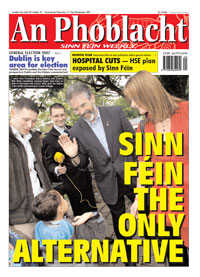 Sinn Féin President Gerry Adams speaking at the launch of the party's manifesto in Dublin on Wednesday, said there is  only one real alternative in the 26 County General Election – Sinn Féin.  
Adams said: "Ireland has changed greatly over the past decade.  The Peace Process driven by Sinn Féin has delivered changes many never thought possible. The hard work of people the length and breadth of this state has reversed economic decline, reduced unemployment dramatically, ended emigration and encouraged immigration.  The all-Ireland agenda has progressed dramatically in recent years.  As a consequence, Ireland is now more peaceful and economically prosperous than ever before.
"But we still live in a divided Ireland. The gap has widened between those with massive wealth and those who must work long hours to house, clothe and feed themselves and their families. People in poverty and on the margins of society don't share in the new prosperity. Minorities suffer discrimination.
"There is only one real alternative in this general election – Sinn Féin.  We are ready for Government, North and South. We have a vision and a plan for a prosperous country in which wealth is shared and where the promise of equal rights and equal opportunities is fulfilled for each and every person who lives on our island.  
"We are the only party with a genuine commitment and a strategy to achieve a new republic that honours the vision of the 1916 Proclamation by pursuing 'the prosperity of the whole nation and all of its parts, cherishing all the children of the nation equally'."
Adams said that in government Sinn Féin is committed to:

A United Ireland where all the people of our island look forward to a shared and peaceful future.
An Ireland of Equals where everyone's rights are guaranteed.
A healthcare service providing equal access for everyone based on need alone.
Housing as a right for all.
An education system that allows Ireland to reach its full potential
A properly planned Ireland with improved quality of life
An Ireland that opposes war and global exploitation and through a policy of positive neutrality, works for international peace and justice.
A strong economy that serves and protects our society – that offers more prosperity and more equality.

"This is the type of Ireland we are committed to build and this is the platform that we are looking for people to endorse on 24 May", he said.
Sinn Féin Finance Spokesperson Caoimhghín Ó Caoláin TD said that in Government Sinn Féin will prioritise the provision of public services for all on the basis of equality.
The party's Dáil leader and Cavan/Monaghan TD said the unprecedented prosperity witnessed in Ireland over the past decade could and should have been used to build first-class services in health, housing, education, public transport and balanced regional development. Instead, "the basic needs of many citizens are not being met and the quality of life for many has been steadily undermined", he said.
"When people elect a Government and pay taxes, they rightly expect the provision of quality public services.  That is what the Social Contract is all about.  In Celtic Tiger Ireland, however, essential services are not made available equally to all.  Rather, the quality of services available depends increasingly on your ability to pay over and above your taxes. Despite ample wealth in this state, public provision is shrinking and double taxation for services in the form of service charges and user fees is on the rise.  The net result is an unequal, two-tier system in healthcare, housing, education and childcare", he said
Sinn Féin Chairperson and Dublin MEP, Mary Lou McDonald said: "Equality is at the heart of Sinn Féin's agenda for government.  Sinn Féin is committed to building a strong and sustainable economy and to using prosperity to create a fairer society and to eliminate poverty.
McDonald said that Sinn Féin's plan for a strong and sustainable economy involves five main priorities:

Building the all-Ireland economy including all-Ireland economic planning and balanced regional development;
Providing world-class infrastructure and public services to enhance Irish competitiveness;
Supporting enterprise and job creation;
Ensuring that workers' rights are fully protected in this process;
Supporting agriculture, which provides 20% of all jobs outside the public sector.
Sinn Féin top 20 priorities in Government

Complete a Green Paper on Irish Unity within one year, identifying steps and measures to promote and assist a successful transition to a United Ireland.
Invest all health funding in the public system and immediately end tax breaks for private hospitals and the land gift scheme.
Provide full medical cards for all under the poverty line and all under-18s
Construct 70,000 new units by 2012 to accommodate social housing need
Amend the Planning and Development Act (2002) to require that all new developments must allocate 30% to social and affordable housing, with at least 10% social and at least 10% affordable housing.
Introduce a universal pre-school session of 3.5 hours per day, five days a week for all children aged 3-5 years.
Immediately reduce all class sizes for children under 9 to a maximum of 20 pupils and end the use of prefab buildings within the lifetime of the next Dáil.
Improve support for start-up businesses including provision of increased business advice, guidance and training plus dedicated management development.
Establish a Department of Labour with a full Minister.
Keep those on or below the minimum wage out of the tax net, and set the minimum wage at, at least of 60% of average industrial earnings
Close all remaining legal loopholes that have allowed millionaires to pay no tax whatsoever and introduce legislation to end tax exile status
Negotiate for tax harmonisation across the island.
Reform the current exploration licensing and taxation regime and renegotiate oil and gas contracts.
Immediately commission an All-Ireland Rural White Paper.
Establish a separate Ministry for the Marine and Natural Resources with a full Minister.
Immediately implement an all-Ireland road safety strategy.
Make adequate resources to Local Drugs Task Forces and Rural Drugs Task Forces.
Agree a 10 year All-Ireland Irish Language Development Plan focusing on the preservation and advancement of the language.
Enshrine neutrality in the Constitution
Incrementally increase Overseas Development Assistance to 1% of GNP by 2010, ring-fence the ODA budget and keep all such aid un-tied.