15 February 2007 Edition
Fifth Column
The Royston Awards
In anticipation of the movie Oscars in Hollywood, BBC Radio Five Live's Julian Worricker programme is launching its inaugural 'Worrickers' — the Worricker Political Awards.
Listeners are invited to join MPs and political journos in making nominations for the short-list of winners.
The categories include...
• One to watch?
• Which MP is most credible?
• Who's your political hero?
• Which is the sexiest male and sexiest female MP?
• Which is the most stylish?
• Which MP is the most likely to jump on a bandwagon?
• Most gaffe-prone MP.
Always willing to draw on the genius and inspiration of others, we're introducing our own awards: 'The Roystons', so named after the Fianna Fáil former Mayor of Dublin, Royston Brady, the Boris Johnson of Ireland (only not as funny), who went into hiding after he screwed up his expensive Euro election bid in 2004.
Anyway, we're seeking your nominations, from anywhere in the 32 Counties, for MEPs, TDs, MPs, MLAs, peers or senators from any political party in all the above categories except the brown-nosing ones of One to Watch and Most Credible. Or maybe you can come up with your own category.
So send your nominations in by e-mail to [email protected] We may even come up with a little prize for the best.
SDLP's fake appearance
An early runner for the Most Stylish Award must be the SDLP's Carmel Hanna.
Carmel was perched on a bar stool on BBC TV's Politics Show's Sunday debate between Assembly candidates and a panel of health service professionals while resplendent in a long overcoat with a fur collar, even though the show was indoors.
The question is: was that a real fur collar — mink, sable or squirrel, maybe — or what they call faux fur?
Who dares wins
And while we're on awards, a quick note of congratulations to the Dixie Chicks.
The Chicks were about as popular as Bernard Matthews at an organic farmers' market after they said, on the eve of the war on Iraq, that they were ashamed that President Bush is from Texas.
As a consequence, they faced a wave of boycotts by redneck radio stations, almost suffocating their careers in the States. Nevertheless, the Chicks have bounced back and this week they made a clean sweep of the five categories in which they were nominated in the 49th Grammy Awards: Best Country Album, Best Country Performance by a Duo or Group, Song of the Year, Record of the Year, and the coveted Album of the Year for Taking the Long Way.
Welcome back.
Gunning for Fianna Fáil
 "Government with Fianna Fáil or no government at all?" was the hypothetical question posed in a vox-pop by Fergal Keane for RTÉ Radio's Saturday View.
None at all, replied one speaker after another, including one man who said no way "until certain elements are rooted out and put in jail or shot".
Or shot? It wasn't at a Sinn Féin ard fheis with its associations with militant armed struggle. Not even at an SWP coffee morning, where they dream of armed struggle (in faraway lands). No, it was at the gloomy party conference in Dublin of the Fine Gael Big Brother's Little Brother, the Labour Party.
Maybe Pat Rabbitte's old Workers' Party comrades haven't stood down the 'Official IRA' after all.
Labour's cold house for RTÉ
RTÉ wanted to do an energy audit this week of the homes of Environment spokespersons of the main parties in Leinster House. Up stepped Sinn Féin's Arthur Morgan, Fine Gael's Fergus O'Dowd and the PDs' Fiona O'Malley.
Fianna Fáil Environment Minister Dick Roche said he was too busy but Labour's Eamonn Gilmore refused point-blank. And the Greens had to put up Energy spokesperson Eamonn Ryan after architect and planner Ciarán Cuffe (Environment) also refused to let RTÉ in the hall door.
Maybe the dollar millionaire 'Chemical' Cuffe was afraid that RTÉ's energy auditor might find his attic insulated with all those share certificates from the environment-threatening companies he was embarrassingly exposed as holding in 2003 after inheriting them from his mammy.
Poisoned staff at Sellafield
The Sellafield nuclear plant has always been a toxic cesspit festering off the east coast of Ireland but now the poison has eaten into the workforce.
White staff members at Sellafield have been circulating racist e-mails, amusing themselves with 'jokes' about people who aren't members of their master race.
Eighteen workers are now facing disciplinary action after the Big Brother surveillance system at Sellafield uncovered the racist network.
Simple at best
TV3's screening last week of a profile of UDA renegade chief Johnny Adair must have made even some loyalists squirm.
Reporter Donal McIntyre showed Adair with his motley crew in exile in Bolton, England, and Troon, Scotland.
Low-lights for the swaggering UDA reject included scenes of the feared 'Mad Dog' being thrown out of run-of-the-mill boozers by pub landlords. And being 'smuggled' in the front seat of a saloon car across the Scotland/England and England/Wales borders before getting the ferry to Dublin and driving to the Shankill at 4am in the morning, while most loyalist leaders were in bed sleeping off a night snorting cocaine was about as exciting as a school bus trip to have breakfast with Steve Staunton.
But the piece de resistance was when Adair unashamedly bragged that UDA prisoners in Long Kesh used a hollowed-out false leg to smuggle in the daily staple diet of loyalist 'political soldiers' — steroids and porn.
Maybe that's what they meant by calling themselves 'hard men'.
An Phoblacht Magazine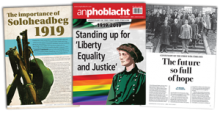 AN PHOBLACHT MAGAZINE:
Don't miss your chance to get the first edition of 2019 published to coincide with the 100th anniversary of An Chéad Dáil and Soloheadbeg.
In this edition Gerry Adams sets out the case for active abstentionism, Mícheál Mac Donncha takes us back to January 21st 1919, that fateful day after which here was no going back and Aengus Ó Snodaigh gives an account of the IRA attack carried out on the same day of the First Dáil, something that was to have a profound effect on the course of Irish history.
There are also articles about the aftermath of the 8th amendment campaign, the Rise of the Right and the civil rights movement.