15 February 2007 Edition
Basque visit: Political exclusion counter-productive - Adams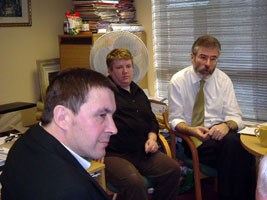 Batasuna leaders in Ireland
Sinn Féin President Gerry Adams MP met on Monday with Arnaldo Otegi, the leader of the Basque political party Batasuna, who was in Ireland for two days.
Batasuna is a banned party and Otegi, currently out on bail on related charges, had to get permission from the Spanish courts to visit Ireland. Batasuna speakers also addressed public meetings in Belfast and Dublin.
Speaking after his meeting with Otegi, Gerry Adams said:
"Sinn Féin is delighted to welcome Arnaldo Otegi and Pernando Barrena from Batasuna to Ireland. The purpose of the trip is to discuss developments in the Irish and Basque conflict resolution processes.
"In addition to meeting with myself and other party colleagues, we have also facilitated meetings between Batasuna and others, including representatives of the unionist and Protestant communities and former Taoiseach Albert Reynolds. The purpose of these meetings is to allow Batasuna to get as broad a range of experiences of the Irish situation as possible.
"Sinn Féin believes that the causes of the conflict in the Basque Country can best be resolved through a process of dialogue involving all the protagonists. While we are always reluctant to be prescriptive about the lessons from our own experience, it is our view that dialogue provides the best route to peace and democracy.
"We strongly believe that Batasuna is committed to conflict resolution. We appeal to everyone with responsibility to redouble their efforts to build the peace process. The best way to resolve conflict, any conflict, is through a process of dialogue and all-party talks.
"Consequently, there is an onus on all of the protagonists to do everything in their power to put the process back on track.
"Dialogue is central to this. Politicians need to demonstrate the political will to talk. And strategies based on exclusion, criminalisation, banning and repression are always counter-productive."
• Arnaldo Otegi at the Dublin public meeting with Sinn Féin activists and Aengus Ó Snodaigh TD