15 February 2007 Edition
No mandate for Harney's 'disgraceful' private hospital plan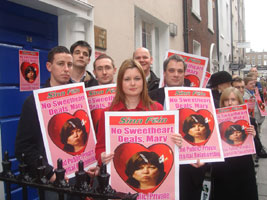 The Sinn Féin TD for Dublin South Central, Aengus Ó Snodaigh, has called on 26-County Health Minister Mary Harney to scrap her plan to allocate land at public hospital sites to the developers of private hospitals before contracts are signed and the state is bound by legal agreements.
Ó Snodaigh was speaking on Wednesday at a protest organised by Dublin Sinn Féin outside the head office of the Progressive Democrats.
 The Health Service Executive is now carrying out a procurement exercise to select certain consortia to build and operate private hospitals on eight public hospital sites.
These include St James's Hospital, Beaumont Hospital, Connolly Hospital (Blanchardstown), Adelaide & Meath Hospital Incorporating the National Children's Hospital (Tallaght), and others throughout the state.
Mary Harney has said that the Health Service Executive envisages that the 'Invitation to Tender' to build and operate these hospitals will be issued in March.
Aengus Ó Snodaigh said:
"Mary Harney must halt this process now before the state becomes bound by legal contracts which will be signed once tenders are accepted.
"This is a disgraceful plan aimed at massively subsidising the private healthcare industry by providing land at public hospital sites as well as tax breaks for private, for-profit hospital developers to whom healthcare is just another way to make easy money.
"This plan pours money into the pockets of millionaires at the expense of ordinary tax-payers and public hospital patients and staff alike. This public money should be spent in the public system only on services that are available to all and based on need alone."
Ó Snodaigh said that the Government has no mandate for this plan as it was never put before the people in an election manifesto by either the PDs or Fianna Fáil. Nor was it in the National Health Strategy or in the Programme for Government.
"All opposition parties have now come out against this plan but, as the Government's current term of office comes to an end.
"Mary Harney seems determined to force this plan through without a mandate. She must scrap this plan immediately."
Harney must resign, SF TD tells Dáil
On Tuesday, a protest organised by the Monaghan General Hospital Alliance saw 100 vans and trucks driven by people from Monaghan, arrive at the gates of Leinster House to put pressure on the Government to reverse plans to remove further acute services from the hospital.
Meanwhile, inside Leinster House, Louth Sinn Féin TD Arthur Morgan demanded Mary Harney's resignation as Health Minister following revelations of atrocious hospital conditions in Our Lady of Lourdes Hospital in Drogheda.
"According to a report presented to the Health Service Executive, a quarter of all medical admissions to Our Lady of Lourdes Hospital in Drogheda are spending their entire stay in the A&E.
"They are denied routine needs such as food, water and washing facilities. Most damningly, the report concludes that 'Large numbers of patients are managed in a site not fit for the purpose by persons not trained for this purpose. It is a testament to staff that no fatalities have resulted to date with medical patients.'
The Louth Sinn Féin TD pointed out that this is the very same staff who have voted in massive numbers for industrial action.
"The people of Louth, and the wider north-east served by Drogheda and Dundalk hospitals have been neglected in a most contemptuous fashion by a minister who is presiding over ever-increasing levels of confusion and chaos in the health service.
"I joined protestors today from Monaghan Hospital outside Leinster House to save their hospital and demand the restoration of services removed from it.
"Her only solution is privatisation: put public money in the hands of private developers and maybe the PDs can add them to the list of 400 names to whom they are sending begging letters for the coming election.
"Privatisation of our health service is a policy doomed to failure from a minister doomed to a place in the history books as having accomplished the impossible: making a greater shambles out of the health system than we had previously believed possible.
"It is time for her to go now and not wait for the people of Dublin Mid-West to send her home."
• Protestors picket Leinster House over the future of Monaghan General Hospital on Tuesday