15 February 2007 Edition
New Lodge families demand justice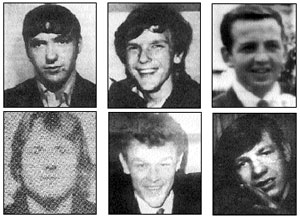 BY LAURA FRIEL
The families of six north Belfast men murdered in February 1973 have demanded a probe into collusion following further revelations by a British agent, known only as 'John Black'.
The agent, believed to have been recruited by British military intelligence to work within the UVF, first came to light in an article appearing in the Scottish Sunday Herald. According to journalist Neil MacKay, Black's unpublished memoir documents crown forces collusion with the UVF in a number of bombings and shootings.
The killings took place within hours of each other on the night of 3 February and early hours of 4 February in the New Lodge area of North Belfast. The British Army claimed all six were shot dead by troops during a gun battle but local eye-witnesses have always contested the official version of events.
According to local people, no gun battle took place and none of the six men was armed. Shortly after 11pm, a car carrying three men drove slowly through the area and shots were fired at a group of men standing outside a local bar.
Drive-by shooting
Jim Sloan and Jim McCann, both aged 19, were shot dead in what witnesses described as a drive-by shooting. The vehicle used in the attack was a type commonly used by the British military and was later found burned out in the Shankill.
The third victim, Tony Campbell, also 19 and a close friend of Sloan and McCann, ran to the scene and was shot dead by a British soldier.  All three were IRA Volunteers but none was armed or on active service at the time of their deaths.
John Loughran (35) and Brendan Maguire (32) were shot dead as they went to help injured people. Ambrose Hardy (26) was shot dead as he made his way home from the Antrim Road.
Local people and a number of the victims' families have always alleged the killings took place as a result of collusion between unionist paramilitaries and the British Army. The suspicion is that the attacks were intended to draw the local IRA unit out onto the streets to defend the area, allowing the British Army to ambush them.
In an article by Colm Heatley for the Sunday Business Post, 'Black' claims he was one of a four-man team firing from Edlingham Street. Within moments of the drive-by shooting, soldiers opened fire from British Army positions within the New Lodge.
According to 'Black', Sloan and McCann had been under surveillance by the British Army for most of the day and targeted to entice the IRA onto the streets.