1 February 2007 Edition
Dáil general election profile: Kathleen Funchion, Carlow/Kilkenny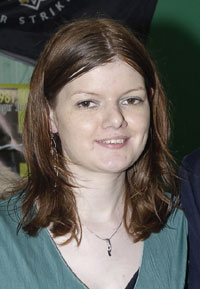 Sinn Féin general election candidate KATHLEEN FUNCHION (25) is from Callan, County Kilkenny.
Coming from a family with a strong social awareness and a trade union background, she talks to ELLA O'DWYER about the influences behind her decision to join Sinn Féin, the priority issues in Carlow/Kilkenny, and the need for a political alternative in the region.
Building the political alternative in Carlow/Kilkenny
Tell us a little about your background.
I come from Callan, a small town 10 miles outside Kilkenny City.
My father worked as a SIPTU official for Carlow/Kilkenny for most of his life so we were always aware of issues around workers' rights and the importance of being in a trade union.
My parents weren't republicans but they've always been socially aware and we were encouraged to be proactive around social issues.
So what got you involved in republicanism?
I always had an interest in Irish history and I studied Sociology at the American College in Dublin. The lecturers were quite left-wing and the classes were much smaller than in your typical college so it was a good atmosphere for discussion and debate.
After I completed my degree I remained in Dublin for a year and I'd often come across Ógra members handing out leaflets on different issues or selling An Phoblacht. I became increasingly interested in republicanism.
In 2003, I contacted Sinn Féin head office to enquire about joining the party. Soon afterwards I was contacted by the secretary of Sinn Féin in Kilkenny and I joined the James Stephens Cumann.
During the local elections in 2004 we campaigned for the local candidate, Tom Kiernan. Tom did very well – he almost took the seat – so a good base was developing and the party have been building in Kilkenny ever since.
What are the priority issues for Carlow/Kilkenny?
There are two counties involved so the issues are diverse.
One issue though that concerns both counties is the lack of adequate hospital facilities. There's no hospital now in Carlow town; it was closed down in the 1980s so both counties are dependent on St Luke's Hospital in Kilkenny. In an emergency the half-hour trip from Carlow can be fatal.
There have also been concerns that the maternity and paediatric units in St Luke's could be closed down. I'm eight months' pregnant now myself so I'm keenly aware of the importance of having these facilities locally.
I've been attending St Luke's during my pregnancy. The nurses and doctors are wonderful but the hospital is under-staffed. I've found that there can be as many as three patients being examined at once in the same room for want of adequate facilities. The last time I went for an examination I had to stand for a half an hour in the waiting room until I got seen to.
St Luke's Hospital needs upgrading all-round.
The closure last year of the sugar beet factory in Carlow with a big loss of jobs must have hit families hard.
Yes, it was an awful blow to one of the key sources of jobs.
The production was moved to Mallow, in County Cork. Sinn Féin is pushing for the factory to be adapted for the production of a particular type of bio-fuel which can be produced from beet.
You were saying that anti-social behaviour is a big issue here in Kilkenny and that's linked to housing problems.
In some council estates in the city you'll find local authority houses boarded up and these are estates where there are little or no facilities for young people so they tend to congregate around these derelict buildings.  There are no playgrounds or green areas for youngsters, particularly teenagers.
There's a community hall in one area of the city that has never been used because the council haven't managed to address a problem around insurance. The council should have renovated the derelict properties long ago, particularly given that there's a serious lack of social housing in the city.
They also need to address the general lack of facilities in some of the estates but there's a kind of apathy involved: some of the elected representatives in the constituency have been in the job for 20 years.
You're pregnant – about to have your first baby in the next month – how do you cope with that along with being a general election candidate?
My partner, David Cullinane, stood for the EU elections in 2004 and he's a candidate for the generals too so he knows what's involved and has been a great support.
When we learned I was pregnant we were very excited but then I started to worry about how I'd cope as a candidate but David was very calm about it and that put me at ease. He's been brilliant.
I also got huge support from both our parents and Mary Lou McDonald and Eibhlín Glenholmes from the Sinn Féin gender equality project are regularly on the phone with encouragement and support. In fact, when I first expressed concern about being a candidate while pregnant, a member of the local cumann quickly pointed out that Mary Lou was pregnant during the EU elections in 2004.
If you hadn't gone down the republican road what would you have done with your life and what are your ambitions now?
I would have liked to do a Masters degree in counselling and I may do so yet but I'm very motivated by republicanism and I'm committed to developing the party here.
And your hobbies? What do you do by way of recreation?
I've always enjoyed music and reading, though I don't have a lot of spare time just now.
I like rock music – Red Hot Chilli Peppers, for instance.
My favourite book is Catcher in the Rye, by J.D. Salinger. There's something special about the main character. He has his own unique way of seeing things – he looks at things from outside the box.
Have you too stepped out of the box in that you weren't raised in a republican household yet you've become very involved in Sinn Féin?
I'm the kind of person who'll say and do what I feel is right. If I feel something is wrong you'll hear it.
In fact, I recall a conversation going on between the landlord of a place I was renting and some students who were staying there. They were condemning the Traveller community in a very unbalanced and biased way. I felt compelled to remind them that Travellers are socially disadvantaged in this country and that should be kept in the equation.
Again, that goes back to what I'm all about: if I feel something is the right thing to do I'll follow it through. I feel that it's right to build and promote Sinn Féin as a political alternative in this constituency – there's a serious need for such an alternative – and that's why I'm standing in this election.
• Kathleen Funchion and Gerry Adams at the Ploughing Championships
An Phoblacht Magazine
AN PHOBLACHT MAGAZINE:
Don't miss your chance to get the second edition of the 2019 magazine, published to coincide with Easter Week
This special edition which focuses on Irish Unity, features articles by Pearse Doherty, Dr Thomas Paul and Martina Anderson.
Pearse sets out the argument for an United Ireland Economy whilst Pat Sheehan makes the case for a universally free all-island health service.
Other articles include, 'Ceist teanga in Éirinn Aontaithe', 'Getting to a new Ireland' and 'Ireland 1918-22: The people's revolution'.